Due to the un-springlike weather we're experiencing, the BYU Cougars held Friday's practice inside the indoor practice facility.
As the Cougars wrapped up Week 3 of spring ball, head coach Bronco Mendenhall said Friday's practice was designed to be lighter since the team has been going so hard and injuries are catching up. The Cougars practice in just helmets and shorts.
*********
BYU safety Craig Bills returned to practice on Friday after missing the first eight practices of spring with a hamstring injury. Craig's presence meant that three of BYU's four starting defensive backs participated with the first-team defense. With Jordan Johnson at corner, and Bills and Daniel Sorenson at safety, Mike Hague was the only starter not to participate. Hague has been out since tweaking his hamstring on Monday. Hague said on Friday that the injury is not serious.
*********
Since making the switch to the defensive side of the football a few seasons ago, Hague has played almost exclusively at the safety position. The move to boundary cornerback has been an adjustment.
"Playing corner feels foreign to me," Hague said. "I'm used to being a safety coming down and guarding tight ends and slot guys. The biggest thing has been confidence for this spring; but I've picked it up and I feel confidant going into this season that if I'm lined up at boundary corner, I can cover anybody."
*********
When the season begins in August, BYU's main receivers are expected to be Cody Hoffman and Ross Apo. Don't be surprised if you start to hear more about Mitch Mathews and Brett Thompson.
Bronco singled both young men out on Friday and praised them for what they've done so far in practice. "Mitch Mathews is really emerging as a quality wide receiver; that's been very positive," Mendenhall said. "Brett Thompson is emerging at the 'Y' spot, which is a modified tight end."
*********
Prior to spring practices starting, Coach Mendenhall told reporters that he would like to name a starting quarterback by the end of spring. With only two weeks left in spring ball, I asked Bronco if things are still on track to do that. "That's the ideal," Bronco replied.
"I don't want to be committed to it yet, but that's my hope; so two more weeks--I think it will be enough time, but I don't want to be on record yet saying that will happen."
*********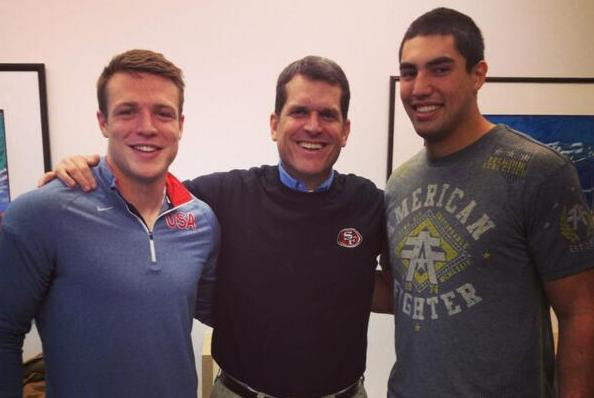 Former Stanford and current San Francisco 49ers head coach Jim Harbaugh was in Provo for a speaking engagement. While in town, he decided to look up Taysom Hill, whom he recruited to play football for the Cardinal. Hill committed to Stanford prior to serving his LDS mission.
"That's actually the first time I've seen him since I've been home from my mission," Hill said. "We still have a great relationship and we had a great relationship when he was recruiting me. It's a relationship that will last from here on out."
When asked if Coach Harbaugh brought up the fact that he is playing for BYU and not Stanford, Hill said, "It did come up, and he didn't blame me for the things that happened. He was aware of everything that had transpired; but, you know, I think he wanted to see me at Stanford."
*********
There were approximately 300 high school football coaches from 10 different states in attendance at Friday's practice. It was all part of BYU's annual High School Coaches Clinic.
Not only do the coaches attend practice, the day includes guests speakers and an opportunity to sit in on position meetings.
*********
You can listen to post-practice audio from Mendenhall, Taysom Hill and Mike Hague by clicking on the links, above left, in "Cougar Cuts."
*********
Next week will be a busy one for the Cougars. BYU will practice on Monday and Wednesday, with media availability only on Monday. Thursday is the Cougars' Pro Day, followed by the Blue and White game at Lavell Edwards Stadium on Saturday at 11 A.M. Don't forget that the scrimmage is free and open to the public. It will also be carried live on KSL Newsradio 102.7 FM/1160 AM
*********
×