This archived news story is available only for your personal, non-commercial use. Information in the story may be outdated or superseded by additional information. Reading or replaying the story in its archived form does not constitute a republication of the story.
MAPLETON — Even before he died while protecting his wife of 42 years in an auto-pedestrian accident Monday, David Henson was a hero in the eyes of his family.
On Saturday, his three children held a run in his honor, vowing they will never forget that he died the same way he lived — running and looking out for his loved ones.
Henson and his wife Leslee, both Mapleton residents and avid runners, were in Santa Clara last week training for Saturday's St. George marathon when a driver texting on her cell phone collided with another vehicle along Dixie Drive, propelling the rear-ended car into the couple. David Henson was able to push his wife away just before impact.
Leslee Henson caught the tail end of the car as it spun around, suffering fractures in her back and neck. But she is expected to make a full recovery at Utah Valley Regional Medical Center. David Henson died almost immediately.
Henson's daughter Haley Warner said Saturday that her father's heroics were the first thing the rear-ended driver told the family after getting in contact with them.
"He was rear-ended and completely innocent," Warner said. "We've actually talked to him every day since the accident. He wanted us to know without a doubt that our dad saved (our Mom's) life, and we know it's something he would do."
After finding that Leslie Henson would recover without lasting injuries, Warner and her brother and sister held the funeral service on Friday. They also decided they would hold a "silent" 5K run in Mapleton to honor their father because running was what brought them close to him.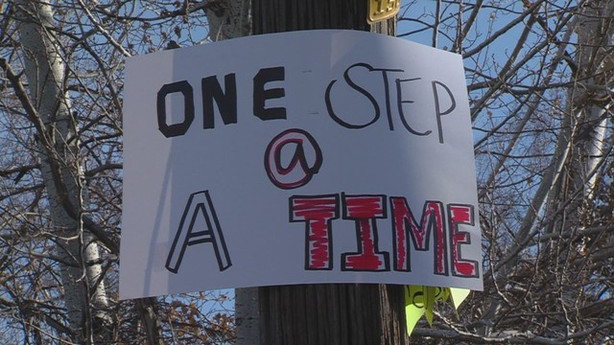 "Running made Dave happy," Warner said. "My parents did tons of local races, triathlons, marathons, and they made running something they would do with the whole family."
Henson, a retired employee of Provo City, had completed the St. George marathon several times and even ran in the renowned Boston Marathon. About 150 friends and family members attended Saturday's race and wore white visor hats – always Henson's running headgear of choice – to honor him. The runners also released white balloons into the sky, made contributions to the family and signed posters wishing Leslee well.
"This is exactly what Dave would want us to be doing right now, to be happy and running and being with friends and family," Henson's daughter Lindsey Mackay told those gathered. "We're really lucky to be his kids."
Henson's son Blake said his dad's 10 grandchildren miss him, but will always remember him as a heroic figure.
"His grandkids were his life. He spent all of his time with them," Blake said. "He made every one of them feel special and loved."
Blake Henson, who also skied, fished and golfed extensively with his dad, is hoping to organize an honorary golf tournament later in the spring.
Email:blockhart@ksl.com
Video contribution: Keith McCord
×
Photos
Related Stories