Estimated read time: 4-5 minutes
This archived news story is available only for your personal, non-commercial use. Information in the story may be outdated or superseded by additional information. Reading or replaying the story in its archived form does not constitute a republication of the story.
SALT LAKE CITY — Talking to Nalini Nadkarni, you soon realize her forest conservation efforts go outside of the status quo, her outreach is of a different kind.
She has climbed trees in the rainforest beside opera singers and artists. Her studies of trees include those in the Bible. Inside the concrete walls of prisons, she teaches inmates about nurturing living things.
Nadkarni, the University of Utah's Center for Science and Math Education director and forest ecologist, has spent her adult life studying and talking about forest conservation. She taught at Evergreen State College in Washington for 20 years before coming to Utah in 2011.
Though she had studied and taught her students about conservation and the importance of forests, she knew that in order to reach people in a way that drew them to action, she needed more than scientific facts and figures: she needed an emotional prompt.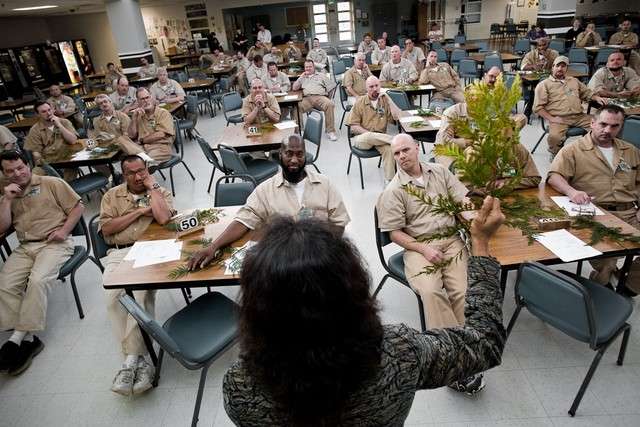 Nadkarni wanted to reach outside of academia. She wanted to reach the people — those she wouldn't find at the university or in the rain forest. She turned to religion.
She began looking at the task of conservation from a religious aspect: what role do trees play in religion? She found 328 references to forests and trees in the Bible. From those, she wrote a sermon about trees and spirituality, which various churches, temples, and synagogues have allowed her to give during their services.
"(I did it) not to throw science down the throats of the congregation but to say, 'I'm a scientist who's interested in trees and I decided to read your holy scriptures and tell you what you already know; that trees and forests are really important to you,' " Nadkarni said. "It became 'We can come to an agreement that trees and forests, and by extension nature, is very important to all of us.' "
"There's a connection then between the trees that are protected in this churchyard and the trees that are discussed in the Bible. It's a really non-confrontational way, I think very powerful way, for scientists to start making connections," Nadkarni said.
Since 1981, she has been ascending into the canopies of the trees in Costa Rica for scientific studies at the research lab she heads there. A few years ago, she began bringing groups of writers and visual and performing artists to ascend into the canopies to study them from the perspective of a creative.
From those efforts and the artists' experiences have come art installations, songs, and dances that have touched many communities.
---
(Prisoners) appreciated working with living things, learning how to nurture living things, taking care of these things — being recognized as being capable of not screwing things up.
–Nalini Nadkarni, U. of U.
---
"Artists in our community are really powerful communicators and understanders of their environment," Nadkarni said. "I can spout all the facts and figures about global climate change and many people won't be convinced. But if they see a beautiful piece of art ... or hear the music that's been inspired by the ocean, very often that emotional connection is much more powerful or at least equally powerful that the facts and figures scientists can bring."
In 2005 she reached out to another unexpected group: inmates.
"The fact that these are people living in almost total absence of nature and science has always made me cringe and feel terrible," Nadkarni said. "I realized they might be a population who really values a deep, direct connection to nature because they're denied access to nature. Who wouldn't want to work with living things more than prisoners?"
A prison superintendent thought it would be a good way to keep inmates busy, and agreed to let her teach the prisoners about the Earth's ecology and how to cultivate plants.
Under her hand, prisoners within a Washington correctional facility conducted an experiment by growing various kinds of moss, chosen because it was being harvested for research and was disturbing forests, Nadkarni said. After 18 months, they answered their scientific questions about whether or not moss could be farmed.
From there, she and students taught them to grow organic plants, make compost, and catch rainwater. Later, she was given permission to help them rear small endangered species until researchers can release them into nature.
"Turned out the prisoners really liked it. They appreciated working with living things, learning how to nurture living things, taking care of these things — being recognized as being capable of not screwing things up," Nadkarni said.
Deemed a success, the program has been implemented across Washington, and is spreading to nearly a dozen states in the nation, including Utah.
The University of Utah is holding a national workshop for the Sustainability in Prisons Project next week for state officials interested in implementing the project in their states. A public event will be held at Red Butte Gardens discussing the project on Thursday, March 21.
Top image: Benj Drummond
×
Photos
Related links
Related stories
Most recent Utah stories