Estimated read time: 3-4 minutes
This archived news story is available only for your personal, non-commercial use. Information in the story may be outdated or superseded by additional information. Reading or replaying the story in its archived form does not constitute a republication of the story.
SALT LAKE CITY — The state of Utah wants to pay you $50 for every coyote you kill. Known as the Predator Control Program, this incentive-based initiative is intended to eliminate coyotes that prey on young deer. According to John Shivik, mammals coordinator for the Division of Wildlife Resources, "If people remove coyotes where deer are being limited by coyotes and not other factors (habitat, weather), there may be localized increases in deer populations."
The $50 bounties are being paid from a fund established by the Mule Deer Protection Act (Senate Bill 245), which was passed last year. The fund tops out at $750,000 a year, which authorities believe is sufficient to cover all the coyote bounty payouts.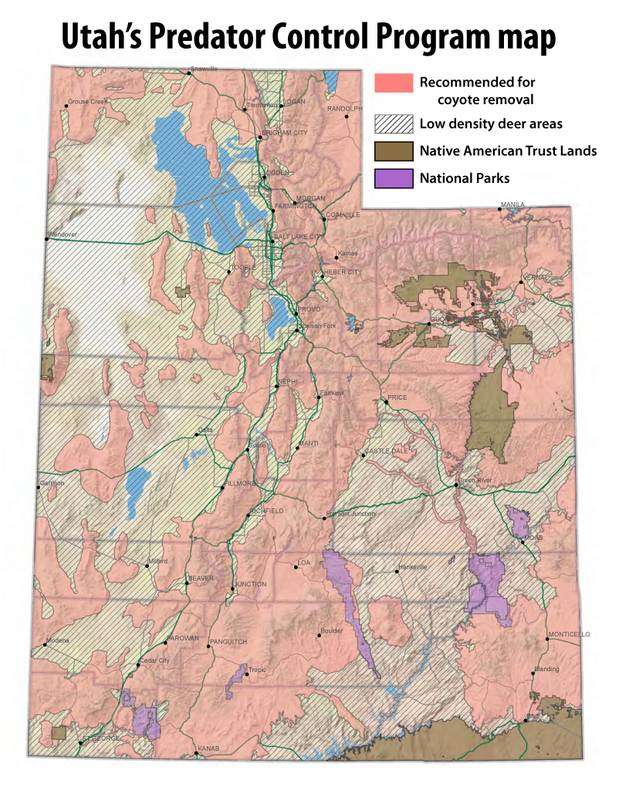 "The program is ongoing and will continue as long as the law is on the books," said Shivik.
There is no fee to participate in the program. You can access the online training and registration by visiting the official website at www.wildlife.utah.gov/predators. Once you have completed the online portion, you are qualified for a $50 bounty for every coyote you kill in Utah. In order to claim the money, hunters must document when and where each coyote was killed and bring the animal's scalp and lower jaw to one of the DWR's check-in sites across the state.
According to the DWR, the bounty program's success is contingent on weather. The official Predator Control Program website says that deer numbers are most affected by the severity of weather and the amount of available food. It's only in years with mild winters and ample food that predators play a larger role in herd survival, making coyote removal relevant. During years with harsh weather and limited habitat, fawns will likely die from other causes, and the DWR concedes that "predator removal won't help deer populations to grow."
To assess the effectiveness of the program, state authorities will evaluate coyote numbers, fawn-to-doe ratios and overall mule deer numbers. They will also monitor the locations where coyotes are being effectively removed and divert attention to new areas where removal could benefit local deer populations.
The Predator Control Program has received enthusiastic support from many local hunters. Scott Foulger, of Lehi, has killed about a dozen coyotes over the last two years and believes the program has a positive impact on deer herds. But he's also noticing an interesting result from the increased focus on coyote hunting. "The coyotes are a lot smarter this year," he said. "They're getting a lot of pressure from trappers and hunters. They're harder to hunt."
Opponents argue that the bounty program has no effect on deer herds, causes ecological problems and is a waste of state resources. Project Coyote is one of many organizations critical of predator bounties. In an open letter to Gov. Gary Herbert, they contended that coyotes feed primarily on smaller animals and are not a significant predator of mule deer. Eliminating coyotes simply means more rodents and rabbits will survive, potentially spreading disease and competing for the same food sources that mule deer rely on.
Project Coyote's letter derisively referred to the Mule Deer Protection Act as the "Coyote Scapegoat Act," and cited a university study of Utah's previous bounty program, which concluded that although it "may provide an enhanced, subsidized recreation program for a small segment of Utah citizens, it is unlikely to have any beneficial effect on populations of livestock or big game."
So what is your take? Is the bounty program a creative way to help our state's mule deer population? Or is it an ineffective initiative that merely scapegoats coyotes?
Grant Olsen joined the ksl.com team in 2012. He covers travel, outdoor adventures and other interesting things. Contact him at grant@thegatsbys.com.
×
Photos
Related Links