Estimated read time: 4-5 minutes
This archived news story is available only for your personal, non-commercial use. Information in the story may be outdated or superseded by additional information. Reading or replaying the story in its archived form does not constitute a republication of the story.
DRAPER — A man arrested for the death of a teenage girl found in the Jordan River last year was cleared as a person of interest Wednesday.
On March 19, Draper City Police arrested Daniel Robert Lehi Ferry, 33, for investigation of murder in the death of Kasprzak. He told a judge in May that he was "no killer" and maintained his innocence.
Probable cause statements including a witness' account of the night accused him of killing the 15-year-old after she refused to have sex with him. According to the statement, she was then beaten, wrapped in a tarp and taken to the Jordan River Parkway.
Wednesday, police announced that investigators had determined Ferry was no longer a person of interest.
On March 11, Anne Grace Kasprzak's body was found in the Jordan River near 12600 South after police responded to reports of suspicious activity. Upon first investigating the scene, officers found a single bloody shoe on a footbridge, which also had blood on it. Four hours later, police located Kasprzak's body by helicopter.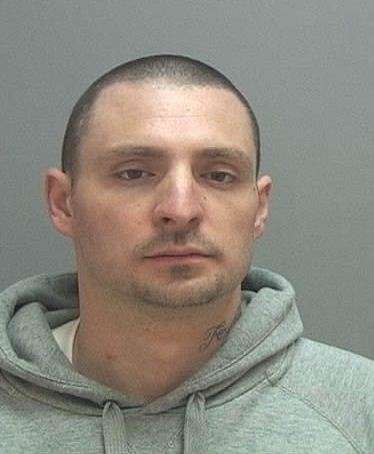 #ferry_mug
Veanuia Vehekite, 30, who was sentenced last summer for unrelated crimes, was arrested on March 24 in connection with the girl's death. He has also been cleared as a person of interest in the girl's death.
The family said they do not believe Ferry had anything to do with the teenager's death.
"Other than statements made from somebody else, there isn't anything else that connects him to Anne, in our opinion," said Veronica Kasprzak, the girl's mother.
Days after Anne Kasprzak was found dead, her stepfather, James Bratcher, said the teen was a "very good girl" who "did not deserve what happened to her."
"The idea that something like that would have happened to her, it wasn't even something we considered," Veronica Kasprzak said.
Family members said that the last time they had seen the teenager, she was finishing some homework at her mother's house on March 10. About 9 p.m., they contacted Unified police saying they did not know where she was. She was reported as a "runaway" and her name was put on the National Crime Information Center.
The next day, police found Kasprzak in the Jordan River.
"It's definitely been a very difficult year and even more difficult not knowing what has happened," said Dennis Kasprzak, the girl's father.
Timeline of events
March 10, 7:45 p.m. Kasprzak's mother and stepfather reported her missingMarch 11, 10 a.m. Police receive reports of suspicious activity on the Jordan River Parkway Once on scene, they find a single sneaker covered in blood on a bloody footbridgeMarch 11, 2 p.m. Surveying the area by helicopter, police locate a body in the Jordan River near 12600 South March 11, 4 p.m. Search and Rescue crews remove the body about a mile from the sceneMarch 12 Police identify the body as that of 15-year-old Anne Kasprzak, of RivertonMarch 19 Police arrest Daniel Robert Lehi Ferry or "Lil Joe" for Kasprzak's death Witnesses claimed he physically assaulted Kasprzak after she refused to have sex with him, later killing her at Jordan River ParkwayMarch 24 Police arrest a second man, Veanuia Vehekite, believed to be an accomplice in Kasprzak's deathApril 11 Search warrant reveals Kasprzak was so badly beaten that she was unrecognizableMarch 6 Draper City Police announce Ferry is no longer considered a person of interest in the death of Kasprzak
Now, Kasprzak's family must look elsewhere for answers, and they are turning to Anne Kasprzak's friends and their parents for answers.
On Sunday night at 7 p.m., Kasprzak's family and friends will gather near the spot police found her body. On the bridge crossing the Jordan River at 12600 South, they will hold a candlelight vigil in her memory and pass out wristbands which the family hopes will lead to tips in the case.
"Secrets can only be secrets for so long," Dennis Kasprzak said. "There is someone out there that still committed this crime and we do not want to see anybody else get hurt."
Ferry, who is serving up to a 15-year sentence in the Utah State Prison for three drug-related cases, including a kidnapping, said he never met the teenager. He claims a woman made up the story because of a dispute over drugs.
"I'm a lot of things. I'm a gang member, I'm a drug addict, I'm a drug dealer. But one thing I'm not is a child killer," Ferry said. "There's somebody out there who's a killer and who is still free, who is laughing at everybody, and a little girl is dead."
"The cops really dropped the ball on this one. They thought they had an open and shut case with me."
Police continue to investigate the case.
"We do follow up on all the leads that we're receiving. We're hoping to develop some more leads and information," said Draper Police Sgt. Chad Carpenter.
Anne's parents hold on to memories of the girl they adopted when she was 9 years old.
"Anne loved to crochet. She loved to do art projects," her father said. "She was such a good sibling to her little brothers."
In January, Anne would have turned 16.
"It was hard this January around her birthday, knowing that I should be taking her to get her driver's license," Dennis Kasprzak said.
×
Photos
Related Links
Related Stories