SALT LAKE CITY — Three men have been charged in connection with a drug bust that netted 40 pounds of methamphetamine in Salt Lake City worth millions of dollars.
Gilbert Flores, 23, Michael Christopher Martinez, 21, and Anthony Alexander Marquez, 21, were charged in U.S. District Court Tuesday with a single count of possession with the intent to distribute 500 grams or more of a substance containing methamphetamine. The men were arrested Monday in what Drug Enforcement Administration officials said was part of a larger drug trafficking system based out of Los Angeles.
"The people of Utah can sleep better tonight because we have closed at least the floodgates," DEA agent Frank Smith said Monday. "We have decimated the cell that is controlling Utah."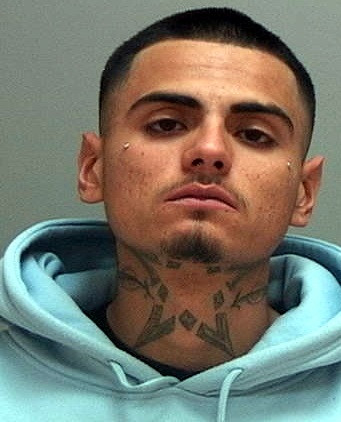 According to the charges, DEA agents learned of a large load of methamphetamine that was in Salt Lake County and arranged for a confidential source to accept the drugs. The exchange was to be made in a Lowes parking lot at 1300 South and 300 West and would be delivered in a gray Dodge Magnum known to belong to Martinez.
When the Magnum pulled into the parking lot Monday, Martinez and Marquez were inside the vehicle and a Mercedes, driven by Flores accompanied them, the charges state. The confidential source went to the back of the Dodge Magnum and looked at some bags located there, signaling to agents that the drugs were in the vehicle.
"Agents then approached Martinez and Marquez in the Dodge Magnum and observed in plain view, two suitcases which were opened and were seen to contain packages of a white crystal substance having the appearance of methamphetamine," according to the charges.
The substance tested positive for methamphetamine and weighed 40 pounds. Agents said they had negotiated a price of $450,000 for the drugs, but on the street, that amount of methamphetamine would have sold for millions.
Flores later told police in an interview that he knew he was taking part in a drug deal and was to be paid $200 if he drove a separate car, observed the deal and made sure that it went well, the charges state.
Related:
Martinez said in a police interview he and Flores were "middlemen" for these large drug transactions and were to get $500 per pound sold of the drugs. Marquez allegedly told police that Martinez and Flores would pay for his living expenses if he accompanied them on these drug deals in the Salt Lake Valley. He admitted that he helped carry the suitcases containing drugs to the Dodge Magnum, the charges state.
The charge carries a possible sentence of up to life in prison, with a mandatory minimum sentence of 10 years.
×
Photos
Related Stories