KAYSVILLE — A quick stop at a gas station turned into a major frustration for a Kaysville man. He believes the gasoline he bought was contaminated with water.
Some water or moisture in a car's gas tank is common. But how much is too much, and can it come from the gas pump?
A sticker on every pump in the state ensures the gasoline is pure, properly mixed and the pump is dispensing the right amount. But Bryon Ruff started noticing problems shortly after he recently filled up his car with gas at a station in Layton.
"About a mile and a half down the road, my car just started sputtering," Ruff said.
The car stopped altogether just minutes after Ruff filled the tank. His car was towed to a mechanic's shop. The mechanic drained the gas tank, he said, and later told him the gas he had purchased was contaminated with water.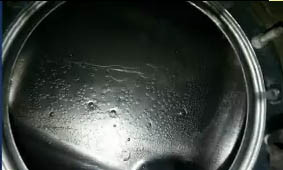 The mechanic took a photo of Ruff's tank, where bubbles showed where the water separated from the gas. The fix wasn't cheap because his car needed a new fuel pump. Ruff said it cost more than $640, including the tank of fuel.
But did the water come from the gas station?
"It's very easy for somebody to doctor that, pour their own water into it," said Richard Clark, director of the Division of Regulatory Services at the Utah Department of Agriculture.
However, managers of the station involved in the case denied that their gasoline was contaminated. They said they test their product multiple times every day, and there's no way the water-contaminated gas came from that station.
They assert there is a shutoff built into the pumps that would activate if bad gas was in the system.
As Ruff discovered, it's not easy to prove a case of contaminated gasoline.
The Department of Agriculture regulates Utah's 28,000-plus gas pumps. So far this year, it has received five complaints about water in the fuel. Most incidents occurred when there was snow on the ground, such as in Ruff's case.
Clark said there are numerous ways water can get into gasoline, mostly related to the underground tank itself. He said if a significant amount of snow sits on or around a gas tank, or if a lot of rain has fallen, the moisture can pool over the top of the tank.
"If there's any cracks or any leaks at all, then water is going to get down (into the tank)," Clark said.
If you suspect water in the gas
Q: What do I do if I suspect that there is water in the gas or the gas is bad?

A: Ask the station attendant or owner to test the tank for water by putting water-finding paste on the end of a dip stick, then lower the stick into the tank. If there is water in it, it will turn the paste a different color (usually purple) and there will be a definite line where the water is. Remember to test the water-finding paste by putting a little water on it before sticking it into the tank.

If you have any problems, call Weights and Measures at 801-538-7158 immediately. Do not wait. The longer you wait, the less we can do to help.
Source: Weights and Measurements FAQs
Sometimes, fuel tanker truck operators don't tighten the caps on top of the tanks properly, or sometimes snow plows pop them loose.
Regardless, motorists who suspect they've filled up with contaminated gas need to report it to the state Department of Agriculture immediately. Contact information is on the Department of Agriculture inspection sticker on every pump.
Even though Ruff saved a jug of contaminated gas taken from his Subaru, it likely would not hold up in court if it came to that because, in theory, water could have been added to the jug.
"We just have to disregard any sample that's pulled by the owner of the vehicle or the repair shop he took it to," Clark said. State inspectors will gather their own samples in response to complaints.
So just how concerned should car owners be about having water in the gas tank? While chances of pumping gasoline containing water into a vehicle are small, it does happen occasionally.
Veteran mechanic Jeremy Smith of Steve's Automotive Specialists recommends not losing sleep over the possibility. In his 20-plus years of experience, he's seen one case in which too much water caused a car to malfunction.
Smith said almost all car gas tanks contain some water, many times from condensation. Trace amounts are mostly absorbed by ethanol in the gas.
He advised the following to protect against too much condensation: "Make sure your gas cap is on and tight. When you fill up your tank, fill it all the way up. Keep it full."
×
Related Links