PROVO — Fire investigators and police are trying to figure out who is responsible for a car burglary spree-turned-arson case.
Neighbors discovered five cars burglarized on two streets in the area of 1050 North and 750 West Tuesday morning.
Whoever was responsible, investigators said, likely also set two of those vehicles — a truck and a sedan — on fire.
Witnesses in the area first became aware of something suspicious early Tuesday morning.
Angela Huerta had just let her cat out around 3:30 a.m. when she said she saw a thin man wearing all black prowling around the cars on the street.
"He got to the back of that black car and he looked at me three times," Huerta said. "I'm wondering, 'what is he doing here?' "
She went about her business, but not for long.
"Five minutes later, BOOM!" Huerta said. "I come out and this whole truck was engulfed in fire."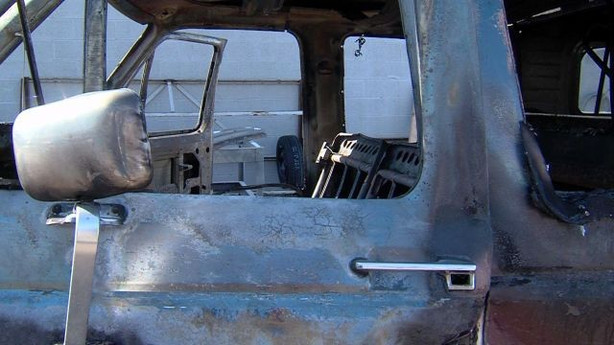 Provo Fire Marshal Lynn Schofield said the truck was a total loss. Its interior was blackened. The engine hood was charred.
A fire was also set in a gold sedan down the block on the same side of the street. Schofield said the fire was started in the same area as the truck, around the front passenger seat.
The fire in the sedan didn't quite take, but it still did about $1,000 damage.
"It does trouble us that they ignited multiple vehicles on the same street," Schofield said.
Schofield said there were no other active arson investigations in the city, and he was operating on the theory whoever is responsible for the fires was likely covering up tracks from the burglaries.
It remains a mystery why two vehicles were set on fire but the other three were not.
"Soon as we catch them I'll ask them that question, because we'd like to know that answer too," Schofield said. "Typically they burglarize the vehicle and they leave it."
Schofield said anybody with information about the spree should contact Provo Police or Provo Fire.
×
Photos