MIDVALE — Investigators have identified the second man they've been looking for in connection with a triple homicide.
Unified police detectives are calling Davis Romney Fotu, 33, a "person of interest" in the killings of three people and the shooting of a fourth person.
The bodies of Danielle Lucero, 26, Omar Jarman, 35, and Shontay Young, 34, were found inside 8286 S. Adams St. (450 West) on Feb. 12. A fourth woman was also shot and hospitalized but has since been released. Four others inside the house — three adult males and an adult female — were not injured.
Almost immediately, police announced they were looking for two men in connection with the shooting spree. After a two-day manhunt, David Fresques, 25, was arrested in South Salt Lake following a traffic accident. He was booked into the Salt Lake County Jail for investigation of three counts of murder, attempted aggravated murder, aggravated burglary and being a restricted person in possession of a weapon.
Prior to Tuesday, investigators had not released a possible ID on the second man wanted for questioning. Investigators now say they are looking for Fotu, a man with a long criminal history who was charged with aggravated assault and retaliation against a witness, victim or informant, both third-degree felonies, for an incident that prosecutors say happened three days before the killings.
Early on the morning of Feb. 9, Fotu and another unidentified man were at the Colonial Village Motel, 1530 S. Main, and asked to leave by a security guard. After exchanging words and threatening to call police, the guard was punched and knocked to the ground, where the two men "began to kick and stomp on his head," according to charges filed in 3rd District Court.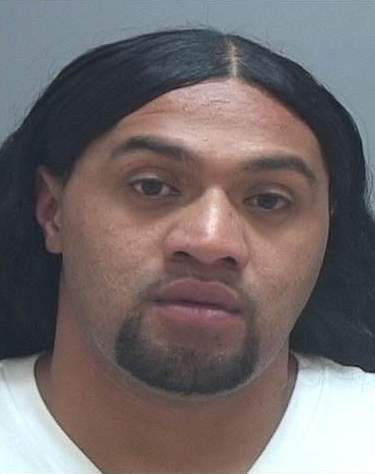 Fotu then allegedly pulled out a gun, pointed it at the security guard and said, "You disrespected me by yelling at me, I'll shoot you if you call the police."
Fotu then went into one of the rooms and the other man left in a dark colored pickup truck. Police were called and arrested Fotu. He told them he went to the motel "to buy weed," according to charging documents. When asked if the guard had hurt him, Fotu told investigators, "No way, not by that (guy). He couldn't hurt me."
Fotu was at the Utah State Prison from 2001 to 2008 and also served a federal sentence during that time. He was convicted on two counts of aggravated assault, attempted theft, criminal mischief and attempted burglary.
In 2000, Fotu and eight others were charged with attempted murder. That case was later dismissed after the victim was deported, according to court records.
Anyone with information on Fotu or the killings is asked to call police at 801-743-5851.
×
Photos
Related Stories