This archived news story is available only for your personal, non-commercial use. Information in the story may be outdated or superseded by additional information. Reading or replaying the story in its archived form does not constitute a republication of the story.
SALT LAKE — On March 11, 2012, Rachel and Jason Warner, not knowing how long they would be gone, kissed their four older children goodbye. The two parents, along with their 4-day-old son, Ryker, boarded an air helicopter to make the 2,000 mile journey from Salt Lake City to Boston in an effort to save their baby boy's life.
Four months earlier, at just 20 weeks along in her pregnancy, Rachel was given the news that something was terribly wrong with her unborn baby's heart. When she and Jason were given the option to abort their baby, without hesitation they chose life.
Unsure of the exact condition of the baby's heart, Rachel and Jason continued with the pregnancy, which, according to Rachel, was the most "normal" pregnancy she had experienced. Then on March 7, 2012, little Ryker made his debut — and four days later took his first flight.
A few days after arriving in Boston, Ryker was admitted to Boston Children's Hospital, where doctors immediately found that his respiratory rate was dangerously high and his lungs were filing with fluid. Multiple tests were performed to determine the exact condition of little Ryker's heart. It was soon found that he had Heterotaxy RAI with five serious congenital heart defects and would need a heart transplant in order to live a long and healthy life.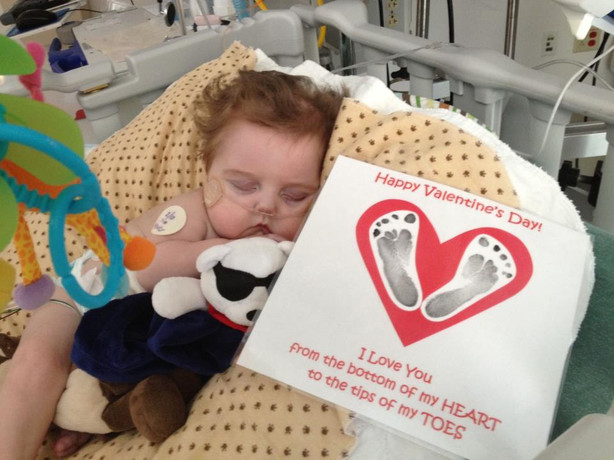 The couple was suddenly faced with their new reality. In order to give their son the best chance at life, they would need to make the move to Boston permanent.
This decision was not without its share of major sacrifices on the part of every member of the family. Jason was a successful general contractor who had to let his business go after 12 years. Rachel worked at a salon where she was a popular hair dresser; she was also in her second year of interior design school.
The couple's two young daughters were both actively engaged in preschool and dance classes, with one just months away from beginning kindergarten. Their older two boys, whose custody they share with the biological mother, were also very involved in school and athletics.
Still, the family ended up short-selling their home, selling many of their belongings, and packing a small moving truck with only necessities.
Even with all of the sacrifices, they remained up-beat and positive. During a rough day, Rachel remembers her 6-year-old saying, "Sometimes things are hard, but you just gotta' do them anyway". The sweet words spoken by their young daughter have been a true testament of the way this family has been going about life the past 11 months. Between taking turns spending time at the hospital with Ryker and being at home with their two girls — making an 80-mile trip each way — the family has remained close and in good spirits.
Ryker's condition has varied considerably over time, as is expected with such a complex disease. It has been nothing short of a roller coaster, Rachel said.
There is good news, though. This past week, Rachel posted on the Miracle Ryker Facebook page, that his condition has improved enough they are making plans to bring him home. Although "home" is now in Boston, they are anxiously awaiting being able to spend time together as a family, which has been a rarity.
Even if all goes as planned, Ryker's needs are still such that both Jason and Rachel will have give him around-the-clock care, meaning both are still unable to work. The situation has caused the family to rely on outside help.
Along with the expenses of Ryker's care, there are the living expenses for the couple and their other children. The two older sons are currently living in Utah and have only been able to visit the family a couple of times, thanks to some generous donations.
The family is grateful for those who have generously donated to fundraisers in their behalf, but their need still exists. To help them out, a friend of the family has created a Valentine's Day/birthday auction in their behalf. Anyone who would like to get involved can participate on the Auction for Miracle Ryker Facebook page.* The auction opened Feb. 14 and will on Ryker's birthday, March 7. All proceeds will go to the Warner family.
---
*ksl.com has not verified the accuracy of the information provided with respect to the account nor does ksl.com assure that the monies deposited to the account will be applied for the benefit of the persons named as beneficiaries. If you are considering a deposit to the account you should consult your own advisors and otherwise proceed at your own risk.
---
*
About the Author: Arianne Brown -------------------------------

Arianne Brown is a graduate from Southern Utah University, mother to five young kids and an avid runner. Contact her at ariannebrown1@gmail.com, follow her on twitter @arimom5, or check out her blog at runariran.wordpress.com.*

×
Photos
Related Links
Related Stories