SALT LAKE CITY — Utah lawmakers are seeking to close a loophole that can in some cases leave the families of disabled or fallen police and firefighters without compensation.
The problem came to light from a pair of cases in 2011. They revealed a gap in coverage for officers who have life-ending or life-altering medical conditions brought on by strenuous work-sponsored training or fitness testing.
Rep. Ronda Menlove, R-Garland, is sponsoring HB30 in hope of closing that gap. The bill deals with line-of-duty death and disability definitions. Under current Utah law, benefits for deceased and disabled officers or firefighters only apply when the injury involves blunt force trauma, violence or activities specifically related to fire-fighting.
The widow of deceased South Davis Metro Fire Marshal Steve Cox can't understand why her husband's case isn't legally considered a line-of-duty death. The fit, 55-year-old Cox started having trouble breathing during an annual physical fitness test on Aug. 26, 2011. His fellow firefighters recognized the problem and took him to Lakeview Hospital in Bountiful. Cox's condition deteriorated and he died two days later.
In the months since, Karen Cox has been involved in a struggle for compensation. Because Steve Cox was a 20-plus year veteran, she is entitled to a portion of his retirement but that is only one piece of the picture.
"Workers' comp denied right off the bat and I've had to fight them and went through 10 months of getting records and statements for them to acknowledge that it was a workers' comp claim," she said, adding that she had to hire an attorney to appeal the denial, but ultimately won a reprieve.
"I don't know what I would do if I didn't have that benefit with what happened with Steve. It has helped immensely. It kept me in my house. It helped pay my bills," she said. "I can't even imagine having to deal with all this as a young spouse with kids."
---
Mike receives similar benefits in terms of wage replacement from the workers' comp people when it could be coming from Utah Retirement Systems. But in the long run, we're going to have more problems ... how long is workers' comp going to be willing to pay, are they going to fight us on this?
–Kelsae Stentzel, Mike Stentzel's wife
---
That's the situation in which Kelsae Stentzel finds herself. Her husband, former Orem firefighter Mike Stentzel, had a stroke following an on-duty fitness test on Nov. 2, 2011. His partner Cameron Monahan noticed Stentzel slurring his speech and called for help, and then Stentzel lost consciousness.
"I still can't believe that that happened to Mike," Monahan said. "Five minutes before, I'm talking to him and he's perfectly fine and normal and then the next thing, he's completely comatose."
A neurosurgeon helped Stentzel survive a brain bleed but he spent a month in a coma. It became clear after he regained consciousness that he would not be able to work as a firefighter again.
"A guy like Mike, he's never going to be able to do anything to help his family out anymore. He's only going to be a drain on the resources of the family," Monahan said. "I still think about him all the time and it kind of stinks that I can't talk with him about it because he can't communicate with me about it."
Today, Stentzel struggles to walk with a cane. He's taking an extended break from physical therapy and spends his time with his wife Kelsae and their one-year-old son. The young family resides in north-eastern Idaho, close to relatives who can provide help. They stay in touch with members of the Orem City Fire Department, making occasional trips to Utah.
"I can't imagine a better support system," Kelsae Stentzel said. "That's been a huge part I think of Mike's recovery and just my sanity, honestly."
She is upbeat about the situation, but concedes there is uncertainty. Like Steve Cox's death, Mike Stentzel's condition did not fit the qualifications for a line-of-duty disability benefit. As a result, Kelsae is not able to supplement the money her husband receives from Utah's Workers Compensation Fund the way she could if the stroke had happened while he was working an actual fire.
"Mike receives similar benefits in terms of wage replacement from the workers' comp people when it could be coming from Utah Retirement Systems," she said, "But in the long run, we're going to have more problems with how long is workers' comp going to be willing to pay, are they going to fight us on this?"
By contrast, line-of-duty death and disability coverage from the Utah Public Employees Health Program would guarantee ongoing wage replacement at a reduced percentage of his pre-injury salary. Workers Compensation Fund coverage could then pay for additional needs like therapy or treatments.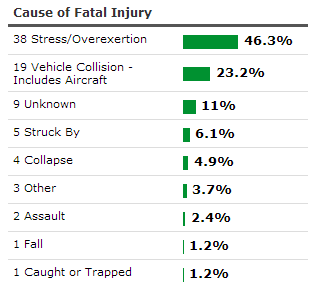 The U.S. Fire Administration's preliminary numbers for 2012 show the leading causes of on-duty death for firefighters across the nation last year were stress or overexertion, most often heart attack. Nearly one in 10 of reported on-duty firefighter deaths happened during training.
HB30 has the backing of the Professional Fire Fighters of Utah (PFFU), a union representing many career firefighters across the state. PFFU President Jack Tidrow admits it can be difficult under the current law for agencies to find appropriate coverage when death or disability occurs from work-sponsored training.
"It's hit and miss," Tidrow said. "Local jurisdictions approach it different ways and sometimes they try to run it through workers' comp or through their employer's health coverage. But this is the proper place to do it, in state statute."
The bill carries a fiscal note, which estimates the financial impact if the bill were to become law. Coverage for firefighters would come out of a trust fund established by the state years ago but providing the benefit to police could cost local governments thousands of dollars per year.
Legislative fiscal analysts predict the cost is small enough that it would likely not lead to measurable cost for individuals or businesses.
During a hearing this month in the House Retirement and Independent Entities Committee, Rep. Bradley Last, R-Hurricane, voiced concern over the cost.
"We have a little benefit here that seems very harmless, inexpensive and then 10 years from now combined with all the other harmless and inexpensive things that we do every session we end up with benefits that are expensive," he said.
Those worries aside, lawmakers passed HB30 out of committee on a unanimous vote. It also received unanimous support on the house floor during a vote Tuesday. The bill's next hurdle is a committee hearing in the senate.
Karen Cox, for her part, has a request for lawmakers as they decide how to vote: to look at the families and to think about it.
"They're going through enough," she said "They don't need to go through this too."
×
Photos
Related Stories