Estimated read time: 2-3 minutes
This archived news story is available only for your personal, non-commercial use. Information in the story may be outdated or superseded by additional information. Reading or replaying the story in its archived form does not constitute a republication of the story.
Courtney Orton reporting It's not uncommon to order a slice of lemon with water or soft drinks at restaurants, but those lemons are adding more than just flavor to your drink.
It's not something we think about when we order a drink at a restaurant. We grab the lemon, give it a squeeze, and drop it into our drink. But when you squeeze that lemon wedge into your drink, you 're actually squeezing in germs--everything from the those that cause staff infections to fecal bacteria.
"Unfortunately, not everyone washes their hands when they need to after they restroom use, or a sneeze or something like that, and that would be the source of the germ," explained Jeffrey Oaks, of the Salt Lake Valley Health Department.
The Salt Lake Valley Health Department has a rule against bare-hand contact with ready-to-eat food like lemons. Servers aren't supposed to do it.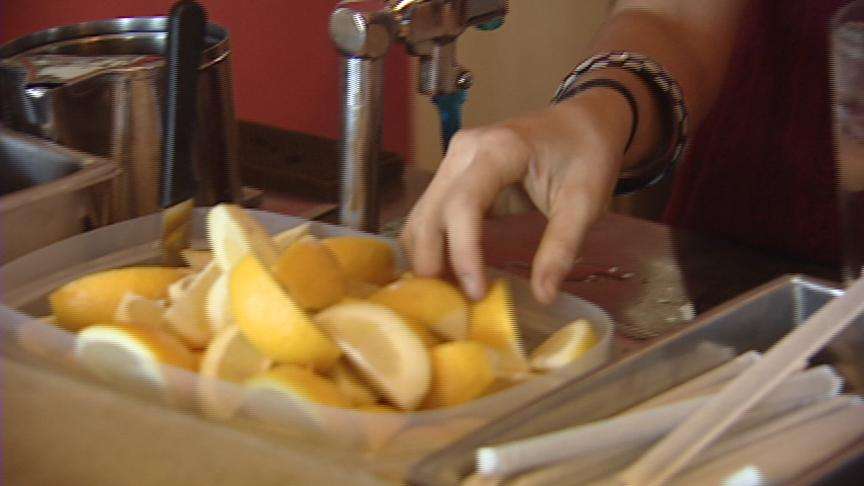 The health department also says hand washing doesn't always happen either. "Even though the person may have washed their hands and may be, themselves, clean at one point, just touching surfaces anywhere that other people may touch can lead to contamination," Oaks said.
Another possible source of contamination is the rind of the lemon. "If the lemons were not washed, it could possibly be contaminated just when the restaurant receives it," Oaks said.
What about the cutting boards lemon wedges are sliced on? "Certainly, if they go to a cutting board where they've cut up raw chicken and then they cut up the lemons--even though they might use gloves and do everything properly, they wash the lemons before they place them on the cutting boards--again there's a cross contamination issue there," Oaks said.
It's not necessarily cause for alarm, but be aware: those lemon slices could cause a sour stomach. "Certainly, anytime you have a food-born illness, your general symptoms would include vomiting, diarrhea, possibly stomach cramps, nausea," Oaks said.
So, should you stop ordering a slice of lemon with your drink? The health department says that's not the message. Instead, they say the message is for restaurant workers to follow food handling rules.
×
Most recent News stories