Estimated read time: 2-3 minutes
This archived news story is available only for your personal, non-commercial use. Information in the story may be outdated or superseded by additional information. Reading or replaying the story in its archived form does not constitute a republication of the story.
A group of young men and women are working on a solution to end the gang violence that claimed the life of a Kearns High School student last week. They say they owe it to the place where they grew up and still care about.
The Face Movement wants to plant new seeds of unity in the community. "We are asking the old to support the young, the young to support their community, and those in pursuit of their dreams to never forget where they came from," said Asaeli Matelau, a leader of The Face Movement.
Matelau and the peer movement's other leaders believe they can help steer youngsters away from gangs. "We live in this community. We've been here. We faced the same problems when we were growing up, and now that they're going through the same thing, it would be a disservice for us to turn our backs on them," Matelau said.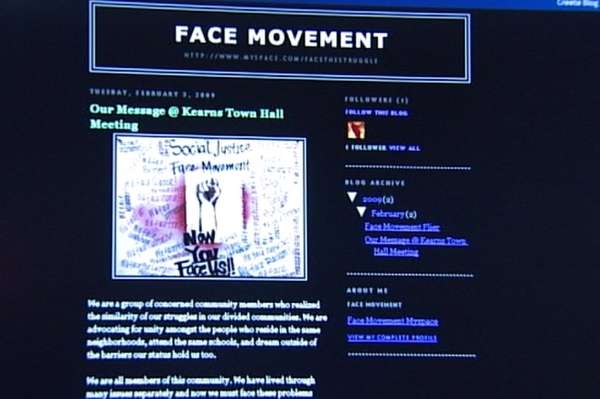 They are Pacific Islanders and Latinos, students and workers fed up with the violence and moved to action by the recent fatal shooting near Kearns High.
"We were all shaken up by what happened to Estaban and Ricky. This incident has broken the silence in our community, a silence created by us sitting back and pretending that nothing was wrong," group leader Isaac Giron said.
The Face Movement has taken its message to churches. They hope to work with Kearns High to mentor youth.
Group members have surveyed their communities and discovered people are concerned about a lack of parental involvement, gang violence and discrimination. They want to help youth face the pressures that lead them to gangs.
"The kids feel this urge that they got to go out and do what they need to do to survive. It's a survival skill," group leader Moses Mounga said.
"The first step doesn't come when they see people and they're getting peer pressure. The first step is when they feel like they aren't included in mainstream society. That's when they start going astray," Matelau said.
The Face Movement plans to face the struggle, and has already launched a blog that will provide a forum for many issues. "The solution won't come any time soon, but this is the beginning," Mounga said.
They believe every dollar spent in gang enforcement should be matched with preventative programming. "This is our chance to unite," Matelau said.
They need the youth to work with them, so The Face Movement is working on a presentation for high school students to help open a dialogue.
E-mail: jboal@ksl.com
×
Related links
Related stories
Most recent Utah stories