Estimated read time: 2-3 minutes
This archived news story is available only for your personal, non-commercial use. Information in the story may be outdated or superseded by additional information. Reading or replaying the story in its archived form does not constitute a republication of the story.
SALT LAKE CITY -- The creators of a system that helps educate 911 operators are responding to recent reports of out-of-control vehicles. This week, they issued new universal instructions for emergency dispatchers.
In August of 2009, an off-duty California Highway Patrol trooper and his family were in a Lexus, a loaner car they were using while their car was being serviced, when a passenger in the backseat called 911.
"We're going 120 [miles per hour], Mission Gorge," the passenger told a 911 dispatcher. "We're in trouble! We can't ... There's no brakes!"
"OK, and you don't have the ability to, like, turn the vehicle off or anything?" the dispatcher asked
"We're approaching the intersection. Hold on! Pray! Pray!" the passenger said.
Seconds later, everyone inside the car was killed as it launched into an embankment and burst into flames. It was a nightmare emergency dispatchers had no time to prepare for.
"It was a good-faith effort that failed, and so we said: Let's help the dispatchers and do some research and figure out how to do it," says Dr. Jeff Clawson, with the National Academies of Emergency Dispatch.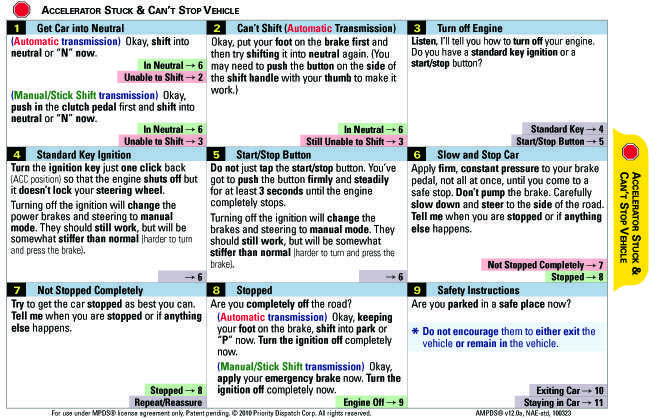 The National Academies of Emergency Dispatch, based in Utah, developed a card and a computer program addition in response the California accident, as well as a more recent case involving a runaway Prius that still has yet to be substantiated.
The card provides a list of questions for the dispatcher to ask. Clawson can't say if it would have helped in the California accident, but he hopes it helps in the future.
"For one of these situations to occur, it's going to be very rare. Probably any call taker who takes one will only take one in their lifetime," he says.
Toyota also released information about what to do if your accelerator sticks, but the National Academies of Emergency Dispatch's card is for any make and model of car.
E-mail: sdallof@ksl.com
×
Related links
Most recent Utah stories