Estimated read time: 2-3 minutes
This archived news story is available only for your personal, non-commercial use. Information in the story may be outdated or superseded by additional information. Reading or replaying the story in its archived form does not constitute a republication of the story.
SALT LAKE CITY -- It happens hundreds of times every school day: Students from West High -- too impatient to wait for the all clear -- cross the railroad tracks on 300 North and 400 West before the crossing arms go up.
Some students even hop over stalled trains and weave between cars. According to train safety experts, it's a move that could cost them their lives.
---
More people die in highway-rail crossing crashes in the United States each year than in all commercial and general aviation crashes combined. -Operation Lifesaver
---
"Many are in a hurry," said Alan Kulicke, a Union Pacific freight train conductor for 32 years. "They always think they can beat a train. Eventually it always catches up with somebody who has that attitude."
Operation Lifesaver, a nonprofit public education program, joined forces with Union Pacific Monday and invited the kids aboard a train near their school.
West High students are at higher risk because of the school's close proximity to a busy train crossing. Vern Keesler, Operation Lifesaver's state coordinator, said too often students think they are invincible.
Pedestrian Safety
Cross tracks ONLY at designated pedestrian or roadway crossings.
It can take a mile or more to stop a train, so a locomotive engineer who suddenly spots you ahead has little chance to miss you.
Trains overhang the tracks by at least three feet in both directions and loose straps hanging from rail cars may extend even further. If you are in the right-of-way next to the tracks, you can be hit by the train.
Do not cross the tracks immediately after a train passes. A second train might be blocked by the first.
Never walk around or behind lowered gates at a crossing. Stay Alive! DO NOT cross the tracks until the lights have stopped flashing and it is safe to do so.
Be aware trains do not follow set schedules. Any Time is Train Time!
For more safety tips click here.
"They cross because they're teenagers," Kessler said. "They're impatient."
According to Operation Lifesaver, trains cannot stop quickly even if the locomotive engineer sees you. Freight trains travel at up to 55 miles per hour and passenger trains move at nearly 80 miles per hour; both types of trains use the tracks near West High.
Luis Camacho, a West High student, says he crosses the tracks every day and has walked across with the crossing arms down.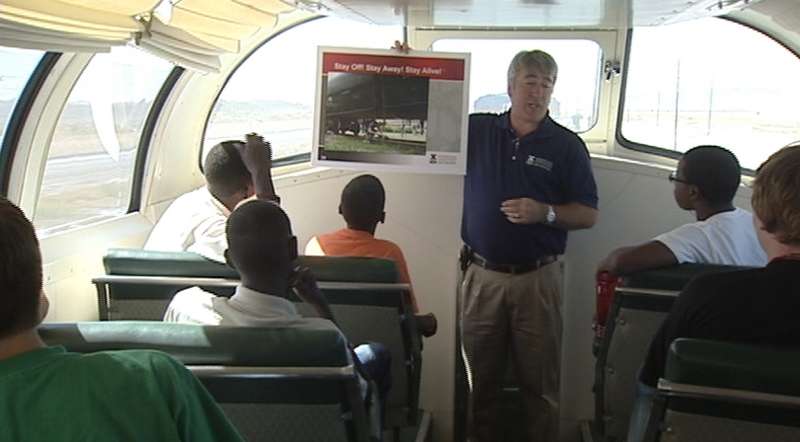 "It takes a long time for the train to pass," Camacho said.
He and his classmates climbed aboard the "safety train" and listened to a presentation about the dangers of crossing the tracks.
Jennifer Leyva, also West High student, said she learned about what can happen if you take the risk.
"There are some things I really didn't know," she said. "Scary stuff can happen."
After Monday's ride, Operation Lifesaver and Union Pacific hope a tragic accident doesn't happen to any of these students.
"When they approach a railroad crossing, look both ways," Keesler said. "Wait for that train, don't engage in risky behavior [like] hopping through the rail cars. That's what I hope they learned."
-----
Story compiled with contributions from Jennifer Stagg and Nkoyo Iyamba.
×
Related links
Related stories
Most recent Education stories