Estimated read time: 1-2 minutes
This archived news story is available only for your personal, non-commercial use. Information in the story may be outdated or superseded by additional information. Reading or replaying the story in its archived form does not constitute a republication of the story.
SALT LAKE CITY -- Longtime volunteer Vanessa Watson, Miss Nebo, prepared 5-spice Turkey and Lettuce Wraps.
Vanessa's father died of a heart attack when she was 11 years old so she is passionate about sharing heart-healthy messages with Utahns. She also loves to cook.
Ingredients
1/2 cup water
1/2 cup instant brown rice
2 teaspoons sesame oil
1 pound 93%-lean ground turkey
1 tablespoon minced fresh ginger
1 large red bell pepper, finely diced
1 8-ounce can water chestnuts, rinsed and chopped
1/2 cup reduced-sodium chicken broth
2 tablespoons hoisin sauce (see Cooking Tips)
1 teaspoon five-spice powder (see Cooking Tips)
1/2 teaspoon salt
2 heads Boston lettuce, leaves separated
1/2 cup chopped fresh herbs, such as cilantro, basil, mint and/or chives
1 large carrot, shredded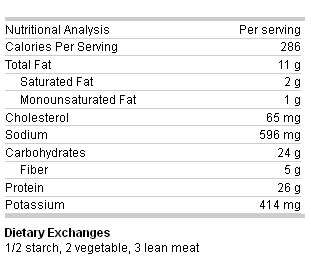 Cooking InstructionsBring water to a boil in a small saucepan. Add rice; reduce heat to low, cover and cook for 5 minutes. Remove from the heat.
Meanwhile, heat oil in a large nonstick pan over medium-high heat. Add turkey and ginger; cook, crumbling with a wooden spoon, until the turkey is cooked through, about 6 minutes. Stir in the cooked rice, bell pepper, water chestnuts, broth, hoisin sauce, five-spice powder and salt; cook until heated through, about 1 minute.
To serve, spoon portions of the turkey mixture into lettuce leaves, top with herbs and carrot and roll into wraps.
Cook's Tip
Hoisin sauce is a spicy, sweet sauce made from soybeans, chiles, garlic and spices. It will keep in the refrigerator for at least a year.
Often a blend of cinnamon, cloves, fennel seed, star anise and Szechuan peppercorns, five-spice powder was originally considered a cure-all miracle blend encompassing the five elements (sour, bitter, sweet, pungent, salty). Look for it in the supermarket spice section.
To Make Ahead: Prepare the filling (through Step 2), cover and refrigerate for up to 1 day. Serve cold or reheat in the microwave.
×
Most recent Your Life - Your Health stories