SALT LAKE CITY — The Jazz are about to hit the All-Star break, hosting Oklahoma City Tuesday, playing at Minnesota Wednesday, then, as his teammates go away for a quick vacation, Jeremy Evans heads to the NBA's All-Star Weekend in Houston as the only Jazzman involved in any aspect of the league's star-studded showcase.
Last season, after combining with Matt Harpring and a few teammates on a fun pre-All-Star campaign video to get himself into the Slam Dunk Contest, Evans was not invited. Fate turned out to be a 'high riser' though and Evans got a surprise last minute invite as an injury replacement and made the most of it.
Evans and good buddy Gordon Hayward (in Orlando there to play in the All Star Weekend Rising Stars Challenge) had precious little time to choreograph a transcendent routine that would have a chance to win the Slam Dunk Contest. How many run-throughs did he and Gordon have to practice that show-stopping 2-ball lob, simultaneous slam finale? "The night before then (when I did it live) this was our third time ever! 3 and that's it. We haven't done it again since that night."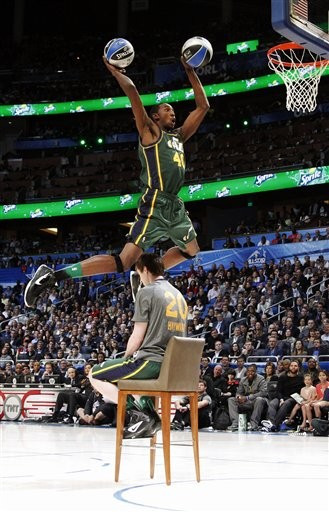 He walked me through his emotions last year as his once-in-a-life-time shot at All-Star Weekend fame approached. "I knew it was my turn next and I was like 'oh my goodness'" Evans told me recently as we sat down to watch his epic performance that won the NBA Slam Dunk Contest last February. I asked him if, because of the nature of the Slam Dunk, with all the major All-Stars right there watching him attempt these dunks that, by design, had a high degree of difficulty, it was maybe the most nervous he's ever been around a baskestball event?
"Yeah, everybody's looking at you. You got out there now and there's 5 guys on the court and somebody else might take the blame or they're watching THEM but this was like, all YOU, they're expecting something special out of you. Yeah it was pretty scary."
Then Jeremy shared with me what many 'doers of great things' say after the fact "Just sitting here watching it, I probably wouldn't have tried it if I was to watch someone else try it."
Course Jeremy did try it, Gordon Hayward's double lobs went just as scripted, Evans caught one right after the other and in almost one motion, he threw both down. That did it, that next, most memorable All Star Slam in Jazz history, along with the homage to Malone slam clinched Evans a small piece of NBA and franchise folklore. The picture capturing Jeremy with both hands full, mid-Jam, was tweeted around the world, instantly among the greatest sports pictures I've ever seen. No argument from the elevating Mr. Evans.
"Yea, I believe so also. Not just because it's me but to see that I actually completed the dunk, I just like, when I go into the gym or feel like someone's challenging me and I bring that up, it's pretty tough on them."
Then, came the last act: an unscripted delivery to Evans that led to his perfectly poetic ad-lib. Kevin Hart brings Evans an envelope with Karl Malone's throwback green jersey.
Jeremy watches that moment and says "We never practiced that, never." The showman in Jeremy was thinking quickly though. Before Hart left the court, Evans used the vertically challenged comedian as a human prop.
Wearing "The Mailman's" 32 jersey, Evans pays homage to Karl. Leaping over Hart while imitating Malone's signature hand—behind-his-head showoff slam. TNT's Smith upped the ante with the classic reaction "The Mail was delivered!" Reggie Miller chiming in "I guarantee you Karl Malone never did that."
Evans says Karl's text to him was the nicest, most memorable thing said or done in the hours after he'd come from nowhere to become an instant NBA celebrity at their annual "greatest show above earth". Evans says Malone texted "Congratulations on winning it and thanks for using my dunk."
After that wild weekend in Houston, while Evans' playing time has actually gone down, his security is up, signing a 3-year deal worth almost $6 million dollars with the Jazz last summer. He's not going to just be content being a fan favorite and All Star Weekend celebrity. Jeremy wants to play.
"Yeah, everybody wants to play, but I feel like we're winning games and my time is going to come."
---
Yeah, everybody wants to play, but I feel like we're winning games and my time is going to come.
–Jeremy Evans
---
Evans' next 15 minutes of fame comes next Saturday night as he defends his Slam Dunk Championship at All Star Weekend in Houston. Have any ideas for him to throwdown and bring back another Slam Dunk Crown? Jeremy's listening.
"Oh yeah I've got ideas, but a lot of them come from fans or the internet, just things I see."
Can't wait to see what he cooks up this time!
Tweet him your ideas @jeremyevans40.
×
Related Links
Related Stories