Estimated read time: 2-3 minutes
This archived news story is available only for your personal, non-commercial use. Information in the story may be outdated or superseded by additional information. Reading or replaying the story in its archived form does not constitute a republication of the story.
Jed Boal reporting Wildfires were a big story across the west again this year. Here in Utah, as the state dried out last spring, it didn't take long for 2007 to set records as the biggest wildfire season in history. It's our number 4 story from 2007.
Drought and heat primed Utah for a devastating wildfire season. The Neola North fire took off the last day of June and raged out of control. But that was just a hot start.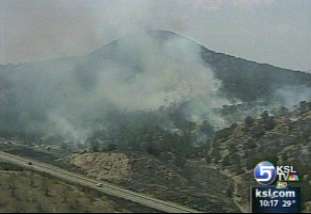 Oregon firefighter Alex Cardenas said, "It's big, it's humungous, we walked probably like four to five miles out and back."
A week later, the Milford Flat fire in Millard County grew to the largest ever in Utah, more than 560 square miles. The fire closed I-15. A couple on a motorcycle died on the smoky Interstate when they were hit from behind.
Fred Gonzales, a truck driver from Colorado, said, "I've seen a truck crash right in front of my eyes. I've seen snow squalls where you couldn't see right in front of ya' for miles and miles, but I've never seen anything like I've seen on 7-7 of '07."
Governor Jon Huntsman said, "It's a very large fire, geographically. I would say the largest in the world right now."
Cattle died and the grass they eat was wiped out. Ranchers were devastated.
As summer sizzled, the Salt Creek Fire burned in Nephi Canyon, started by a catalytic converter that fell from a passing car. Anxious cabin owners in Fountain Green watched the wildfire burn toward their properties.
Firefighters and resources poured into the state to control another big fire. In all, firefighters battled 1,385 wildfires statewide, more than a third of them were human caused. Nearly 650,000 acres went up in flames.
When it was over, the dust did not settle over I-15 in Millard County.
UHP Sgt. Kevin Rhoades said, "You can see the haze out here. Those aren't clouds, that's dust."
A UHP video shows the lasting reminder of hundreds of square miles of scorched earth. The wildfire season also fouled our air. The Division of Air Quality reported 40 days last summer with unhealthy air, 24 days more than in 2006.
×
Most recent Utah stories