Estimated read time: 2-3 minutes
This archived news story is available only for your personal, non-commercial use. Information in the story may be outdated or superseded by additional information. Reading or replaying the story in its archived form does not constitute a republication of the story.
SALT LAKE CITY — Hundreds of Utahns rallied at the Capitol Wednesday to demand action to improve the state's poor air quality.
A week ago, the rally's organizers Margie McCloy and Carl Ingwell created a Facebook page for the event and asked Utahns to flood Gov. Gary Herbert's office with phone calls. Those who showed up at the rally came with posters, masks and petitions, despite Herbert being away in Washington, D.C.
"We can look out for each other and look out for each other's health," Ingwell said.
Many of those who rallied believe the bad air could be improved with better public transportation and tougher regulations for drivers.
"(There should be) increased restrictions on car emissions, ways to facilitate using TRAX and UTA, better coordination of schedules," McCloy said.
Others at the rally blamed industries like oil refineries for the poor air quality. However, data from the Department of Environmental Quality (DEQ) points to several contributing causes of pollution in Utah: 11 percent comes from industries like refineries, 32 percent from businesses and 57 percent from vehicles.
Regardless of the cause, the issue is difficult to tackle. Alan Matheson, Herbert's chief environmentalist, said any improvements have to be legal, technically feasible and improve air quality.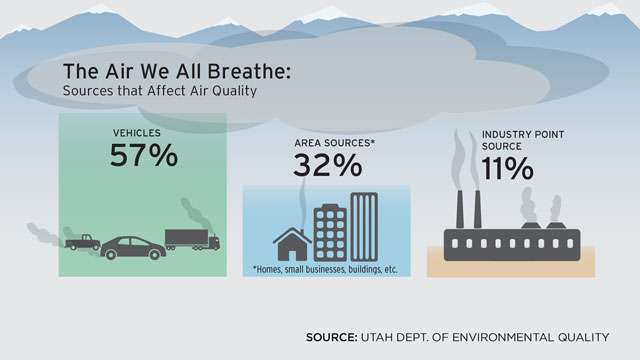 "The governor does not have the authority to shut down legally operating businesses and put people out of work or have them miss paychecks," Matheson said. "The reality is we don't have a silver bullet that's going to solve the problem."
Improving the air quality may require a cultural shift and change in attitude among Utahns, according to the DEQ.
"We're not asking for holistic lifestyle changes where people sell their automobiles and commit completely to public transit," said Amanda Smith, executive director of the DEQ. "(Try) carpooling or taking public transit one day a week, reducing the use of heating in our home, or lowering the thermostat."
Salt Lake County has had 18 days exceed federal guidelines for acceptable levels of air quality this winter. The DEQ is currently targeting specific counties within the state to craft clean air measures to meet the needs of each county. In addition, the state has put in place more than 20 new rules aimed to improve and address air quality issues.
×
Photos
Related stories
Most recent Utah stories