Estimated read time: 4-5 minutes
This archived news story is available only for your personal, non-commercial use. Information in the story may be outdated or superseded by additional information. Reading or replaying the story in its archived form does not constitute a republication of the story.
SALT LAKE CITY — One lawmaker is making her fourth attempt at passing a bill about smoking in a car containing a child, the Senate Minority Leader is calling for federal protection of Southern Utah's Canyonlands, and a bill that would allow drivers to more safely pass bicyclists on the road advances.
Bill preventing smoking in a car with a child introduced
Rep. Patrice Arent, D-Salt Lake City, on Tuesday introduced to the House Health and Human Services Standing Committee HB13, which would prohibit smoking in a vehicle when children age 15 and younger are passengers.
HB13 would make smoking in a vehicle when children are passengers a secondary offense. The bill specifies that law enforcement may only issue a warning for violations up to July 1, 2014. After that, violators may be fined up to $45, which can be waived on the first offense if violators enroll in a smoking cessation program.
It is the fourth time Arent has sponsored the bill. It successfully passed through the Senate in 2008, the House in 2011 and through a House committee in 2012, but each year it has failed to be passed by the entire body due to time restrictions of the 45-day session.
Related:
Bill urges for Canyonlands' protectionSen. Jim Dabakis, D-Salt Lake City, is calling on his colleagues on Utah's Capitol Hill to urge Congress and President Barack Obama to enact immediate protections for the state's Greater Canyonlands area. Dubakis hosted a news conference Tuesday and was joined by Rep. Patrice Arent, D-Salt Lake City, the House sponsor of a joint resolution calling for protections.
SJR10 cites the pristine nature of the Greater Canyonlands region and its value as a undeveloped recreational spot for generations to come. The resolution also touts the infusion of money that outdoor recreation generates for the state — $5.8 billion annually — and the important role Canyonlands National Park plays in that equation.
Dabakis said his measure enjoys broad support from all corners, including hikers, bikers, offroaders, hunters, business leaders and environmental advocates.
Bill to make passing cyclists safer advances
The House Transportation Committee gave unanimous favorable recommendations to a pair of bills dealing with motorists passing cyclists.
HB294, sponsored by Rep. Johnny Anderson, R-Taylorsville, would allow motorists to cross double yellow lines to pass bicycles or mopeds traveling slower than other traffic.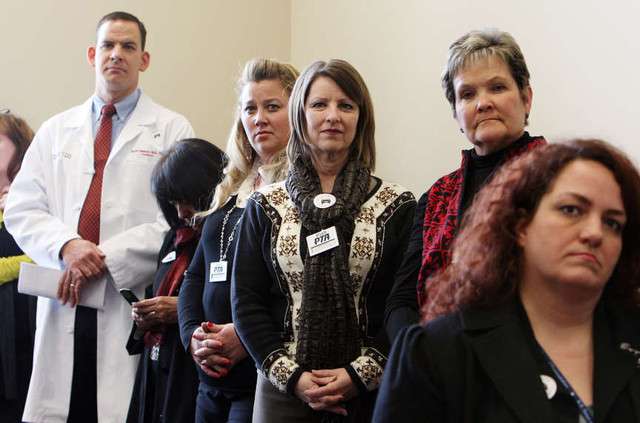 HB297, also sponsored by Anderson, would make it legal for motorists to cross into the turn lane on three-lane roads to pass bicycles and mopeds.
Senate passes bill aimed at breaking cycles of intergenerational povertyA bill to create a state commission of five state department heads to develop policy recommendations to end intergenerational poverty unanimously passed the Utah Senate on Wednesday.
SB53 calls for a commission made up of the executive directors of the state departments of health, human services and workforce services, as well as the state superintendent of instruction and the juvenile court administrator.
Resolution proposing advance signal warnings for intersections moves forward
A House committee Tuesday unanimously supported a resolution urging state transportation officials to install advance signal warnings at intersections where yellow-light accidents are frequent.
An advance signal warning device has been successfully installed at traffic lights in various intersections throughout the state, warning drivers when a yellow light is about to turn red, said Rep. Draxler, R-North Logan, sponsor of HCR1.
Lawmakers advance bill to educate about dangers of prenatal virus
Rep. Ronda Menlove, R-Garland, has introduced a bill at the state Legislature that would establish a statewide educational program to inform pregnant women and others who deal with young children who may be infected with cytomegalovirus, of the issues surrounding the infection, as well as direct physicians to test for it in babies who fail newborn hearing screenings, among other provisions.
HB81, she said, "is important to help address the situation of an infection that causes preventable disabilities in children."
Contributing: Marjorie Cortez, Mary Mellor, Amy Joi O'Donoghue and Wendy Leonard
×
Photos
Related stories
Most recent Utah stories