Estimated read time: 5-6 minutes
This archived news story is available only for your personal, non-commercial use. Information in the story may be outdated or superseded by additional information. Reading or replaying the story in its archived form does not constitute a republication of the story.
SALT LAKE CITY — We love to use our cell phones. We keep everything on our phones — from our grocery lists to emergency contact information, from our favorite games to family photos. But one thing no one likes is paying too much for a cell phone bill.
By following these five tips, you can be sure you're not paying more than you need for your phone.
1. Pick the right type of plan
There are two basic kinds of plans: prepaid and contract. Contract plans are the typical two-year agreement that you pay for monthly. Prepaid plans are usually month by month, where you pay for a month in advance and have no obligation to continue next month. Older prepaid plans are something like buy 500 minutes, and when those run out, buy 500 more. Prepaid plans are available for almost all of the same phones contract plans offer.
Consumer Reports have consistently found that prepaid plans are cheaper than contract plans, usually by a $1,000 over two years with smart phones. Yet prepaid plans often require more upfront for the phone itself, while contract plans will subsidize the cost of the phone for the guarantee that you'll be paying them for two years.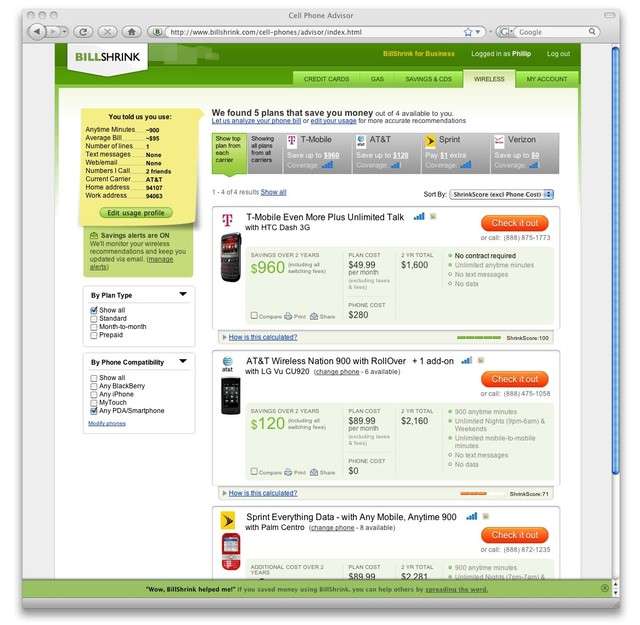 Websites like Billshrink.com and SaveLoveGive.com will help you find just the right plan. They will analyze your current usage and make sure you're not buying, for example, 6 GB of monthly data when you only use 1.5 GB a month. They also offer comparisons of prepaid and contract plans.
While looking at cell phone plans, be sure to look into shared, or family, plans. If you know a few trustworthy people you can share a plan with, it can save everyone a couple hundred dollars over the course of a year.
2. Look for discounts
All major carriers, and most prepaid plan providers, give discounts to certain groups of people. Many businesses have plans in place to give you between 5 and 25 percent off your bill. Most carriers offer discounts to college and university students.
You can check for discounts using your business or student email at your carrier's website (AT&T, Sprint, T-Mobile and Verizon). Ask your prepaid plan provider for similar discounts. Not all prepaid plans will have discounts like these available. Instead, they may have programs allowing you to pay for three months at a time, at a discounted rate.
3. Monitor your data usage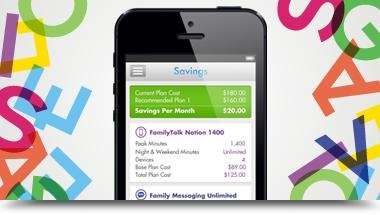 Once you have the perfect plan picked out, be sure to stay within your plan's limits. Overage fees on a cell phone can be very expensive, and quickly add up.
The first thing to look out for is data overages. Phones these days are always connected to the internet, pulling down emails, notifications and updates. If you're not careful, even with moderate use, you can hit your data limit before the month is over.
Onavo (iOS), and DroidStats (Android) are apps that allow you to monitor your usage to ensure you don't go over your allowance. Many carriers also have an app, or optional text message alerts, to help you stay within your plan.
4. Use VoIP to save on minutes
With VoIP, you don't need a plan with a lot of minutes. Voice over Internet Protocol is a way to make voice calls over the internet, and doesn't use your cell phone minutes. Just be sure you're on WiFi when making a VoIP call, or you'll be using your plan's data.
#poll
Apps like Talkatone and Viber are available on all platforms and use VoIP technology to make unlimited free calls. Talkatone integrates with your Gmail account to find your contacts and calls all US and Canada phone numbers, while Viber integrates with your phone's address book and makes calls only to other Viber users, world-wide.
5. Check for sneaky charges
The last step to making sure you aren't over-paying for your phone plan is to check the bill every month. Remember that daily horoscope text you signed up for years ago? Services like these often start charging you a dollar or two a month, or per text. If you see charges like this, immediately call your service provider and ask for them to be removed, and blocked from making additional charges.
Cell phones can be important tools for making your life easier, so make sure you get a plan that fits your needs. But make sure you're not paying more than needed.
---
Taylor Wilson is an IT professional at a small Utah company. He has a passion for helping people with technology. Email: taylorwilson@testonetwo.com Online: www.testonetwo.com
×
Related links
Related stories
Most recent Science stories