Estimated read time: 2-3 minutes
This archived news story is available only for your personal, non-commercial use. Information in the story may be outdated or superseded by additional information. Reading or replaying the story in its archived form does not constitute a republication of the story.
SALT LAKE CITY — Young adults have far more credit card debt than their parents and are paying it off more slowly than past generations, a new study shows.
The study from Ohio State University was based on two large monthly surveys combined with 13 years of data on how people pay down their credit card debt. The results suggest that a person born between 1980 and 1984 has credit card debt substantially higher than debt held by the previous two generations.
Researchers compared how people who were born in different time periods, but with similar characteristics — such as education, income and marital status — dealt with credit card debt.
Study author Lucia Dunn said there are two reasons young adults are in more debt:
Credit is more readily available
Attitudes about debt have changed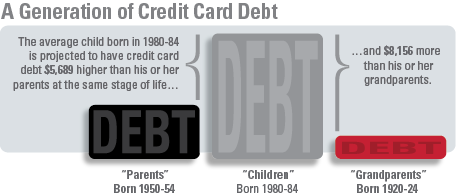 "It's a slippery slope," one college student said. "You start to take out a little bit, and you get what you need. Then you start getting what you want. It kind of all builds up and since you don't have to pay for it now, you just want it. Then you just get into all this debt."
While the study didn't show bankruptcy as a new trend, they found it doesn't have the same stigma as it did in past generations.
"It's a lot more socially acceptable to have debt and go into bankruptcy," Dunn said.
The trend apparently shows young adults are not managing debt wisely. Once they get into debt, many discover it's difficult to find or keep a job which supports the credit lifestyle.
The Center for College Affordability and Productivity said half of college graduates are paid less than they expected for their education.
"Fifty percent of college graduates either can't get a job or are doing a job for which they have not needed a college degree," said Arianna Huffington of the Huffington Post.

Experts say the solution lies in teaching good money management before teens get their first credit card and the first temptation to buy on credit.
"I mean, that's a terrible temptation to have because you can make decisions without giving any thought to the long-term implications," said Lou Murillo, a success director.
The Utah State Core Curriculum requires that all students take a financial literacy class in 11th or 12th grade.
Student loans could also be a part of the debt problem. With record-high tuition rates, student loan debt is higher, too. More new graduates focus on paying off that debt rather than their credit cards.
The Ohio State study offered this solution: Increase the minimum required monthly credit card payment. Over time, that will eliminate the debt years earlier than would otherwise happen.
Results of the study appear in the January 2013 issue of the journal Economic Inquiry.
×
Related links
Related stories
Most recent Utah stories
More stories you may be interested in