Estimated read time: 3-4 minutes
This archived news story is available only for your personal, non-commercial use. Information in the story may be outdated or superseded by additional information. Reading or replaying the story in its archived form does not constitute a republication of the story.
SALT LAKE CITY — A Utah Highway Patrol trooper whose hand was severed when he was hit by a distracted driver last summer spoke publicly about the accident for the first time Wednesday.
His remarks came following a ceremony held at the UHP Traffic Operations Center, 2010 S. 2700 West, to honor a group of men who stopped everything to find not only Sgt. Chris Dunn's hand, but something else very important to him.
The incident began just before 6:30 a.m. on Aug. 22 when a slow-moving semitrailer going east on I-80 was rear-ended by a van near the Lambs Canyon exit. Dunn went to retrieve a measuring device from his car and was leaning in on the driver's side, bracing himself with the door when he was hit by a utility truck.
"I felt that I was bleeding — I could feel the blood, and it was visually on my hood," Dunn recalled.
---
Obviously, I love my wife; and I knew it was my left hand, and (the ring) just meant a lot to me.
–Sgt. Chris Dunn, UHP
---
Never looking down, he didn't know his hand was gone. But a fellow trooper did tell him fingers were missing.
Bleeding, Dunn laid back into his patrol car and looked at photos of his family pinned to his roof. That's when he thought of his wedding ring.
"Obviously, I love my wife; and I knew it was my left hand, and (the ring) just meant a lot to me," Dunn said.
"The only thing Sergeant Dunn kept saying was, 'Where is my wedding ring?'" said Ron Williams, who was responding to the accident as a member of the Utah Department of Transportation's Incident Management Team.
Williams found Dunn's severed hand. The ring, however, wasn't with it.
"I took my lunch cooler out of my truck, started packing ice on it; and when LifeFlight got there, or AirMed actually, (I) handed it to them," Williams said.
While most of the other incident management workers on site went back to work, one team member, Bodie Bowthorpe, couldn't.
"I just felt obligated to find it. After everybody stopped looking, I kept looking (and) there it was)," Bowthorpe said.
Three hundred feet away from the accident, he spotted Dunn's small, sliver ring laying in the debris field near the tire of another cruiser. Bowthorpe gave it to another trooper, who immediately sent it to the hospital.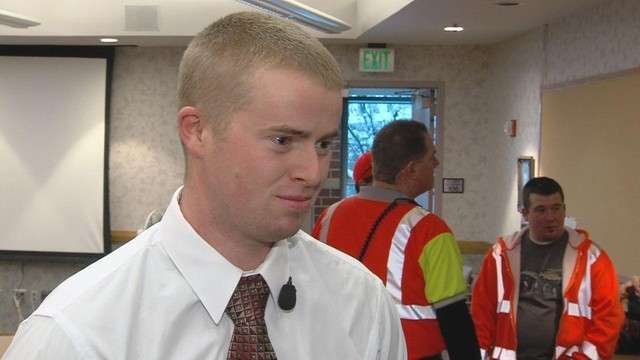 "After 13 hours of surgery, that's the first thing I asked my wife: 'Did they find my ring?' And she had it on, and I took a deep breath and I was able to relax," Dunn said.
The sergeant's hand was reattached during his initial surgery, and he will undergo a few more surgeries. He is doing physical therapy three to four times a week for four or five hours.
Dunn said he hopes to one day wear his ring again. In the meantime, he's keeping it safe at home. "If I didn't have to wear these casts, I would put it on now," he said.
Wednesday, Dunn thanked the members of UDOT's Incident Management Team for finding his hand and ring. They were presented with UDOT's Silver Barrel Award for their service — a pin they now wear proudly.
"Without them, our job is difficult enough," Dunn said. "When they're behind us, we feel more at ease when we're doing our job."
Dunn's goal is to return to the road by April 1. He said his accident is a good reminder of why all motorists need to to slow down, move over and pay attention when they see UHP troopers and UDOT workers responding to crashes on the roads.
Contributing: Viviane Vo-duc
×
Related stories
Most recent Utah stories