SALT LAKE CITY — A jackknifed semitruck that blocked eastbound I-80 near 600 South was cleared, but the Wednesday morning commute remained a mess along the Wasatch Front for the third day in a row.
But before they can even hit the road, there's another headache this third day of snow is causing for residents along the Wasatch Front: shoveling.
More accidents, school closures
Numerous other accidents were reported along I-15 from Ogden to Provo. Utah Highway Patrol said troopers responded to more than a dozen accidents and slide offs between 9 p.m. Tuesday and 4 a.m. Wednesday.
Snow appeared to be wetter and accumulated more quickly than it did Tuesday morning. In many areas, there was not as much snow, but wind was a factor in icing the roads. I-215 west was described as "ugly" from Taylorsville to Legacy Parkway in Davis County.
Speeds were dramatically reduced on northbound I-15 at Point of the Mountain, in several spots through the Salt Lake Valley, and in parts of Davis County. Both Big and Little Cottonwood canyons remained open with four-wheel drive or chains required.
School Closures and Delays
Capitol Hill Academy in Salt Lake City - closed because of snow.
Weber School District - early out schedule
Weber School District schools were running on adjusted schedules Wednesday due to weather, which means junior high and high school students were on a shortened schedule.
The district website said, "Due to the potential of severe inclement weather, all schools, elementary and secondary, will be dismissing early on Wednesday. Lunch will be served. Elementary schools will follow the regular Wednesday schedule. "
Parent teacher conferences scheduled for Wednesday were cancelled, as well.
Shovel safety
Another hassle that comes with prolonged snowfall: shoveling. It can be a necessary evil of owning a home and yard, but did you know many people are doing it the wrong way and ending up in the hospital?
Doctors at The Orthopedic Specialty Hospital (TOSH) in Murray say more than 11,000 people suffer shovel-related injuries to their necks, backs and shoulders every year. With back-to-back storms this year, specialists there saw 60 percent more patients in January than they did in the same month last year.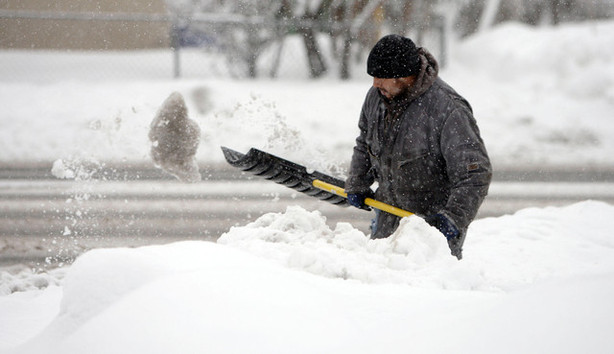 Part of our effort here is to teach people how to properly shovel snow to avoid injury," said Aaron Swalberg, a physical therapist at TOSH.
The hospital gave away 100 shovels Wednesday as part of its Shovel Brigade Campaign, which aims to help people who can't shovel their snow.
Roger Davies, an athletic trainer at TOSH, said there's a right way and a wrong way to shovel, and it starts with dressing for the conditions.
"When you're shoveling, you want to have the right gear on," Davies said, adding that includes gloves and proper shoes.
Picking the right shovel is important to. TOSH suggests using a smaller shovel to throw snow; the bigger ones are designed to just push it.
"Instead of dragging this over and throwing it a long ways, I'm just going to push it to one side; and I can move a little at a time," Davies demonstrated.
Proper form is important too.
"IF you're shoveling straight on into these cracks and sidewalks, you can stop," Davies said. "A lot of times, it's that sudden stop that will give you a problem either in your shoulder, or it can hurt your back."
Shovel at an angle, he said. Then when you're ready to throw the snow, keep your back straight; don't twist your body.
"Bend your knees, keep your chest up, and you're going to grab low," Davies explained. "Keep the shovel close to your body, and then you're going to step forward, or wherever you're going to throw the snow."
Contributing: Randall Jeppesen and Andrew Adams
×
Photos
Related Links
Related Stories