This archived news story is available only for your personal, non-commercial use. Information in the story may be outdated or superseded by additional information. Reading or replaying the story in its archived form does not constitute a republication of the story.
PROVO — BYU officially announced its 2013 football schedule Monday. The slate features teams from eight conferences, with notable matchups against Texas, Wisconsin and Notre Dame.
"I really like the way this schedule came together," said BYU athletic director Tom Holmoe. "I like the balance of home and away games and the opportunity to play in different regions of the country. It's one of the best schedules in program history."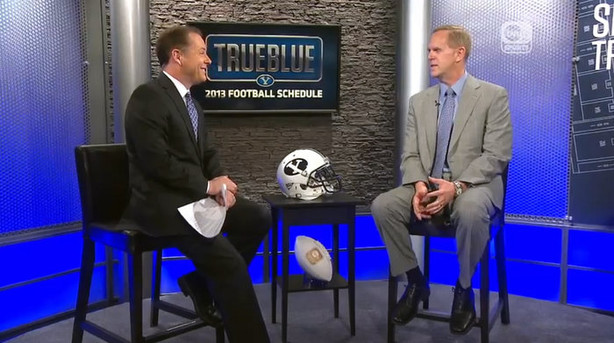 The Cougars will have six home games and six road games. The Cougars welcome the Texas Longhorns to Provo on Sept. 7. The two teams have played three times, with the Longhorns defeating the Cougars 17-16 in 2011, coming back from a 13-0 deficit. BYU won the two previous meetings.
BYU also travels to Notre Dame for another game against the Fighting Irish. The two schools played in 2012, with the Irish coming back in the fourth quarter to win that game. The Cougars had a late chance to pull off the upset, but an incomplete pass from senior quarterback Riley Nelson to Cody Hoffman helped keep the Fighting Irish's undefeated regular season alive.
After traveling to Atlanta to play Georgia Tech in 2012, the Yellow Jackets come play in Provo in 2013. The game against the Yellow Jackets last year was a dominant performance by the Cougars defense, which held the Yellow Jackets to zero offensive touchdowns in a 41-17 win.
Related:
"You have to give BYU credit. They've got a good football team," said Georgia Tech coach Paul Johnson after the game.
BYU will aim to play in its ninth straight bowl game in 2013. The Cougars have made an appearance in the postseason every season that coach Bronco Mendenhall has led the program. BYU finished the 2012 season with an 8-5 record, their second year as an independent. The Cougars have a 25-14 record since 2010.
Additional details, including broadcast plans, game times and ticket information, will be released as the information becomes available.
2013 BYU Football Schedule
Aug. 31 — at Virginia
Sept. 7 — Texas
Sept. 14 — BYE
Sept. 21 — Utah
Sept. 27 — Middle Tennessee State
Oct. 4 — at Utah State
Oct. 12 — Georgia Tech
Oct. 19 — at Houston
Oct. 26 — Boise State
Nov. 2 — BYE
Nov. 9 — at Wisconsin
Nov. 16 — Idaho State
Nov. 23 — at Notre Dame
Nov. 30 — at Nevada
Dan Lewis covers BYU sports for KSL.com. He is currently attending Brigham Young University, studying communications with an emphasis in multimedia journalism.
×
Related Stories