This archived news story is available only for your personal, non-commercial use. Information in the story may be outdated or superseded by additional information. Reading or replaying the story in its archived form does not constitute a republication of the story.
BYU Athletic Director Tom Holmoe announced the 2013 football schedule on Monday. After months of speculation, fans were finally able to see the schedule that coaches and administrators called, "BYU's toughest ever."
Heading into its third year of Independence, BYU can finally show-off a true Independent schedule. When the Cougars announced they were leaving the Mountain West Conference in 2010, BYU had very little time to schedule teams to fill what would have been conference games in the MWC. In order to satisfy a 12-game schedule for the 2011 and 2012 seasons, BYU reached an agreement with the WAC to play four to six teams from its conference.
Now that the agreement with the WAC is over, the 2013 football schedule is the first to reflect BYU's ability to arrange all 12 games. My own personal opinion is that BYU knocked it out of the park. Without built-in conference games, many wondered what kind of teams BYU would be able to line-up. With programs such as Notre Dame, Texas, Wisconsin, Virginia and Boise State set to face-off against the Cougars, I'd say Tom Holmoe did just fine.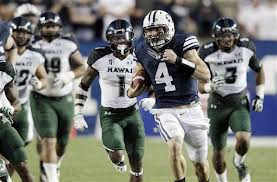 Now that we know who BYU will play, the questions turn to how the Cougars will fare. Most of the uncertainty will be on the offensive side of the football. Not only will the Cougars have a new offensive coordinator, they'll have a new starting quarterback trying to run his system. Most believe that regardless of who the quarterback is, the play should improve over last season; quite frankly, it couldn't get much worse. With almost everyone returning at the skill positions, and more emphasis being put on the offensive line, BYU's offense should see improvement.
Even though the defense loses Ziggy Ansah, Brandon Ogletree and Preston Hadley, the return of Kyle Van Noy should ensure that the defensive side of the football remains dominant.
The 2013 schedule provides BYU the opportunity to play high-profile teams on national television, both home and away. If BYU can be successful against this type of competition, a BCS bowl may finally be a reality.
2013 BYU Football Schedule
Date Opponent
Aug. 31 at Virginia
Sept. 7 Texas
Sept. 14 BYE
Sept. 21 Utah
Sept. 27 Middle Tennessee State
Oct. 4 at Utah State
Oct. 12 Georgia Tech
Oct. 19 at Houston
Oct. 26 Boise State
Nov. 2 BYE
Nov. 9 at Wisconsin
Nov. 16 Idaho State
Nov. 23 at Notre Dame
Nov. 30 at Nevada
×