Estimated read time: 3-4 minutes
This archived news story is available only for your personal, non-commercial use. Information in the story may be outdated or superseded by additional information. Reading or replaying the story in its archived form does not constitute a republication of the story.
SALT LAKE CITY — In coffee shops dotting the downtown area, Salt Lake City residents meet with police once a month to discuss concerns about crime in an area that seems to see more and more of it with passing years.
Last week, officers gathered at Mestizo, a coffeehouse at 650 W. North Temple that doubles as an art gallery. The shop sits on the edge of an area many in the city see as a crime-ridden part of town, but it is this perception the Salt Lake City Police Department is trying to fight as it works to make residents more aware of the city in which they live.
Despite the complaints of some in the area who perceive a rise in crime as the city has grown, the crime rate in the city has fallen since the late 1990s, in line with national and statewide reductions in crime, although Salt Lake saw a slight increase in violent crime in 2010 even while seeing a decrease in property crime.
During the last three years, though, Salt Lake has seen an overall decrease in crime — and nowhere has it been more pronounced than on what has traditionally been called the "west side." In Districts 1 and 2, both of which fall on the west side of I-15, the violent crime rate is still higher than that of districts on the east side of the freeway. But Derek Dimond, a detective with the Salt Lake Police Department, said the city can't be judged on violent crimes alone.
---
There aren't any areas of the city that are necessarily worse than others.
–Derek Dimond
---
"There aren't any areas of the city that are necessarily worse than others," Dimond said. "There are only different types of crime, depending on where you live."
Dimond said the SLCPD has worked in recent years on breaking down the west-side stereotype, beginning within their own department. Where patrols used to be broken into two sections — "Liberty" on the east and "Pioneer" on the west — they were combined because of the connotations that went with the names of the two parks.
Liberty Park, located at about 600 East and 1300 South, saw 161 incidents involving police in 2011. Pioneer Park, located at about 400 South and 400 West, saw 1,021 incidents.
"It's a hard thing — a stereotype is a stereotype," Dimond said. "But we're doing our best to address these issues and break down these stereotypes."
To that effect, the department is doing a lot of community outreach, hosting Coffee with a Cop on the fourth Thursday of each month at various locations in the downtown area. The idea is that residents of the city can show up and talk to an officer in a casual setting while drinking a free cup of coffee.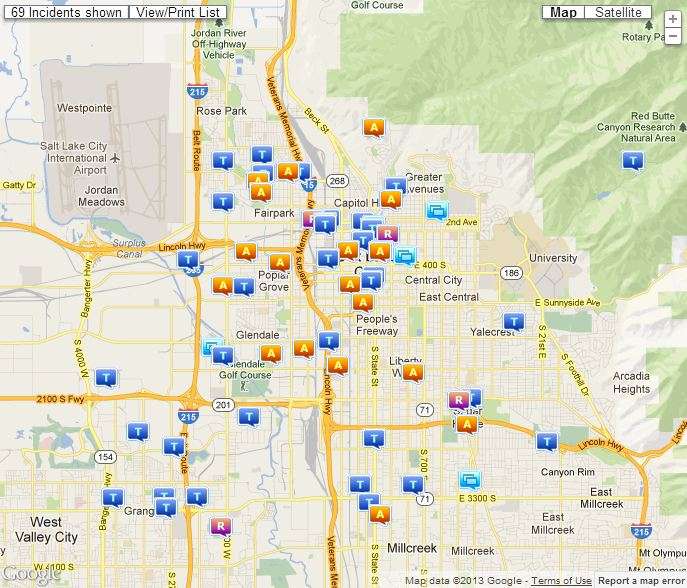 "Sharing a cup of coffee is a great way to get to know someone," Chief Chris Burbank said, "and we're hoping to hear what public safety issues are top of mind for the public."
Additionally, the department promotes citizen awareness as a crime-fighting tool. In many cases, using common sense is the first line of defense against fighting crime. Residents should lock their doors, stay in lit areas and walk in groups when they go out at night, Dimond said.
"Not too long ago, people wouldn't lock their cars or their doors," Dimond said. "But you need to use common sense. There are a lot of people who live in their house and have no idea what's going on in their own backyard."
The department has a crime map available on its website that shows the most recent violent and property crimes in the city.
Dimond said in non-emergencies, residents who have concerns or questions about crime or safety can call the police department at 801-799-3000 and ask to have an officer call back.
"Everyone remembers the last time they dealt with a cop," he said. "Everyone has a bad story about the time they got pulled over for speeding. But we're doing it because we care about the city and are trying to make it a better place."
×
Related stories
Most recent Utah stories