Estimated read time: 2-3 minutes
This archived news story is available only for your personal, non-commercial use. Information in the story may be outdated or superseded by additional information. Reading or replaying the story in its archived form does not constitute a republication of the story.
John Hollenhorst reporting More snow fell today, and more is in the forecast, all adding to the danger of an avalanche season that has killed two people in the past few days.
The most recent fatality is David Balls of Oakley. He died yesterday while snowmobiling in the mountains above that town. That death highlights a strong trend that's taken place over the last 30 years: Snowmobiling has replaced backcountry skiing as the leading cause of fatal avalanches.
A lot of people feel very powerful when they're on a snowmobile, but they are no match for the power of nature when snow starts to slide. Backcountry skiers have learned the hard way for many years. In recent years, snowmobilers have been forced to learn the same lessons.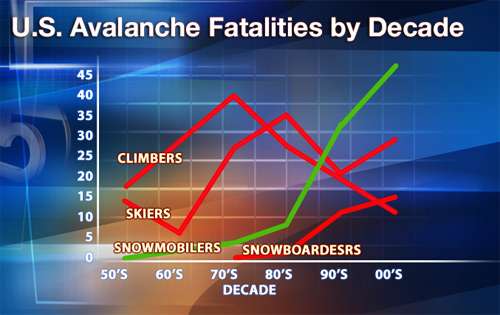 A safety video put together by the Utah Avalanche Center shows that winter sports can be exhilarating, spectacular and terrifying. "Getting caught in an avalanche is kind of like being in a car wreck. I mean you just don't want to be in one," one skier says.
Daredevil backcountry skiers and mountain climbers used to be the recreationists most at risk. But since the 1980s, avalanches are increasingly a phenomenon of snowmobiles.
"It used to be snowmobiles couldn't get back into areas that normally people could hike or ski into," explained Eric Stucki, of Utah State Parks and Recreation.
New powerful machines now routinely go where angels fear to tread.
For a half century, avalanche deaths have been steadily increasing. Over time, the death rates have shifted. Skier and climber deaths have declined, relatively, while snowmobiler deaths have shot up to about 40 percent of all avalanche deaths.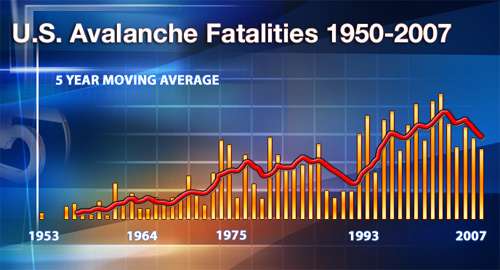 Experts now stress avalanche training and equipment--probe poles, locater beacons, and shovels--for all backcountry snowmobilers, and the safety gear ought to be on the rider, not the machine, in case they get separated.
"They're just kind of on the back side of the learning curve a little bit maybe," Brett Kobernick, of the Utah Avalanche Center, said. "They're kind of in the same boat that skiers and snowboarders were 10 or 15 years ago."
The goal, of course, is to never have to use avalanche tools, to avoid going into areas when they're dangerous. "As long as you check the forecast, as long as you know before you go, I think they can go back into those areas, as long as they are prepared," Stucki said.
In other words, get information so you know when to go and when to stay home. "Keep in contact with what the current conditions are, and that way they can make wise and informed decisions when they travel into the backcountry," Kobernick said.
The Utah Avalanche Center now provides forecasts specifically tailored to snowmobilers, and they do educational programs for all sorts of different groups.
The experts Eyewitness News talked to say the message is sinking in, and snowmobilers are much more safety conscious than they used to be.
For more information on current avalanche conditions, click the related link.
×
Related links
Most recent Utah stories