Estimated read time: 1-2 minutes
This archived news story is available only for your personal, non-commercial use. Information in the story may be outdated or superseded by additional information. Reading or replaying the story in its archived form does not constitute a republication of the story.
Whit Johnson reportingA holiday activity turned tragic when an avalanche killed a man snowmobiling with his family. This avalanche was the second in Utah in just a matter of days.
It happened around 3:30 Tuesday afternoon in the mountains above Thousand Peaks Ranch area, which is a popular place for snowmobiling and cross-country skiing. The mountains there are also known for avalanches.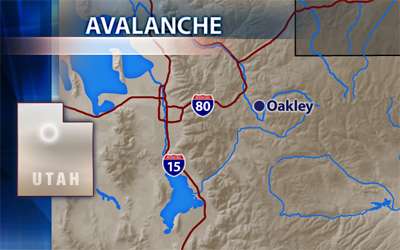 Authorities have not yet released the name of the man who died. The man was out snowmobiling with a group of family and friends when a large avalanche - about 400 feet wide and six feet deep -- hit.
Members of the group called Summit County search and rescue and tried to dig him out themselves. Rescuers arrived on the scene with snowmobiles and helicopters but were unable to save the man, despite their best efforts.
Summit County Sheriff Dave Edmunds said, "I actually know the individual very well and know the family, and it's very difficult for me personally to be the bearer of such bad tidings."
Sheriff Edmunds says the man who died was the only person caught in the slide. He wasn't able to tell us the exact circumstances that triggered the avalanche but says the avalanche danger in the area is very high right now.
"When you go into the backcountry, you truly are on your own, and it's going to take quite a while for search and rescue to get out here. Make sure people know where you're going and that you have peeps and probes and that you are aware of the terrain you're going into," Sheriff Edmunds said.
In 2002 a backcountry skier and his dog were killed in an avalanche in the exact same area. The sheriff's office is reminding people to use extreme caution when in the backcountry.
×
Related links
Most recent Utah stories