NORTH OGDEN — Family and friends came together Sunday night to remember a young family killed Saturday in an accident on I-215 in Davis County.
At a candlelight vigil in North Ogden, those who knew the couple gathered to honor them, expressing their utter disbelief at what had happened.
"It's been a big shock for everyone, because he is just the most responsible kid you can imagine," C.J. Christiansen said of his cousin, Garrett Barker.
Barker, 22, and his girlfriend, Kelsey Halterman, 21, were traveling on the I-215 overpass Saturday morning when they hit ice and slid along the guardrail, flipping over the railing and landing on the railroad tracks below. Barker, a former video editor at KSL, died at the scene of the accident.
Halterman, who was pregnant and due to give birth Jan. 27, was transported to Lakeview Hospital. There she delivered a baby boy who was taken to Primary Children's Medical Center. Neither Halterman nor the baby, who the couple had been planning to name Sage, survived.
Three of the dogs the couple had with them died at the scene; two others were later euthanized due to injuries.
"I'm in shock," said Barker's niece, Tami Turner. "I don't know how to think or how to feel."
With a heavy sense of loss, more than 100 friends and family members embraced one another. But more than anger or sadness, there were glimpses of happiness as those gathered shared their most treasured memories.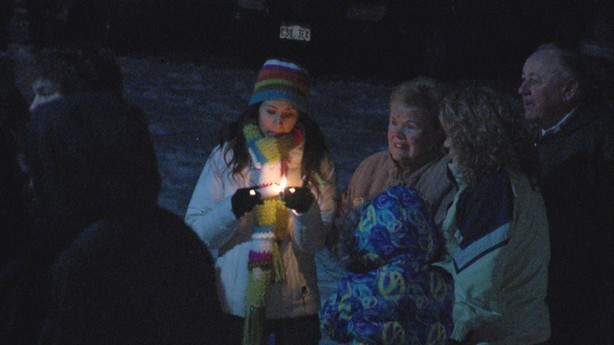 "When we first moved to North Ogden, we were adopted, so Garrett was one of my first friends," said Rylie Turner, Barker's nephew. Jay Barker said "he got ahold of us here last fall, and he said, 'I'd like to have my real parents,' and we were his adoptive parents; he wanted all the family to get together."
Those who knew him said Barker was a friend to everyone, especially to dogs. He inspired his friends to find homes for strays.
"We actually named her Sage, and it turns out that was what he was going to name his kid," said Barker's best friend, Kasey Mangel.
It was the love Barker had for dogs, as well as for his fiancee and their unborn baby, that has left behind a great message to all of us, according to family and friends.
"I think it boils down to the fact that people need to care about one another and love each other," Jay Barker said. Mirjam Barker, the 22-year-old's adoptive mother, said "they're together; that's about the best part. Ya know, I think if one of them would have survived, that would have been harder."
An account* has been set up in the couple's name at America First Credit Union to help with funeral expenses.
---
*ksl.com has not verified the accuracy of the information provided with respect to the account nor does ksl.com assure that the monies deposited to the account will be applied for the benefit of the persons named as beneficiaries. If you are considering a deposit to the account you should consult your own advisors and otherwise proceed at your own risk.
×
Photos
Related Stories