This archived news story is available only for your personal, non-commercial use. Information in the story may be outdated or superseded by additional information. Reading or replaying the story in its archived form does not constitute a republication of the story.
VICTORIA, Australia — Firefighters are at the beck and call of blazes and flames, and it's no secret their job is low on the spectrum of what's considered safe. But as Australian firefighters equip themselves with a miracle pill, running into burning buildings might be a little safer.
Before heading into extreme temperatures, ranging from 27F to 255F, firefighters swallow a tiny pill called the Equivital EQ02 LifeMonitor, made by Vivonoetics. The pill, which has an indigestible capsule, transmits information to external computers so firefighters' vitals can be monitored.
However, the pill doesn't work on its own. The contents of the pill communicate with an external device called a Sensor Electronics Module (SEM) that's worn on a belt across the chest. While the pill calculates internal temperatures, it sends feedback to the SEM. Meanwhile, the SEM measures skin temperature and heart and respiration rates. After data is collected by both components, it's sent to an external computer to be analyzed, TIME reports.
Peter Langridge, health and wellbeing officer for Victoria's County Fire Authority, told News Limited that data gathered during a trial period has led to changes in how long firefighters are exposed to blazes.
"If we see their core body temperature increasing then we know to remove them from the fire and put them into the rehabilitation area," Langridge said. "Working in hot environments will stress different people at different rates. There is no set formula for how long a person can fight a fire before they start suffering from heat stress or dehydration and management is the key to protecting our firefighters."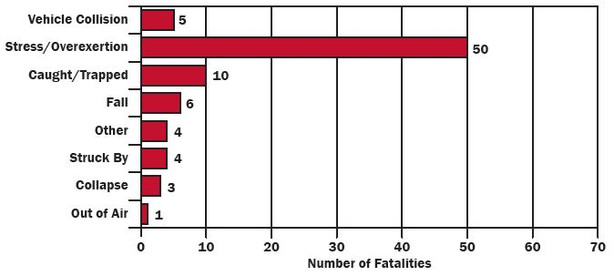 The most common fatal injury among firefighters in 2011 was stress and overexertion, which serves as umbrella category for cardiac or cerebro-vascular deaths like heart attacks, strokes and extreme thermal exposure cardiac, according to FEMA's "Fatalities by Cause of Injury" report.
Stress and overexertion accounted for 60.2 percent of the firefighter deaths in 2011 and has been the number one fatal injury among firefighters for seven of the last 10 years.
TIME points out that with the implementation of the data gathering pill, people could learn more about how bodies handle stress from heat exposure and ideally use those findings to prevent similar fatal injuries in the future. Rather than taking a one-size-fits-all approach to firefighter safety, the pill represents a personalized approach by allowing data to guide decisions on individual firefighters' safety.
This isn't the first time the Equivital EQ02 LifeMonitor pill has gotten media attention. It's the same system used to track Felix Baumgartner's vitals during his skydiving stint from space in October.
Baumgartner, an Austrian skydiver and extreme athlete, plunged to Earth after being dropped from 24 miles in space. He reached a speed of 833.9 mph, effectively breaking the sound barrier.
×
Related Links
Related Stories