Estimated read time: 6-7 minutes
This archived news story is available only for your personal, non-commercial use. Information in the story may be outdated or superseded by additional information. Reading or replaying the story in its archived form does not constitute a republication of the story.
PHOENIX — The city of Phoenix, Ariz., is home to a bizarre mansion with a history of secrets and heartache. Dubbed the "Mystery Castle," it took nearly 20 years to complete and was dedicated to a girl named Mary Lou Gulley. Here is the strange, yet true, story of one of the most unique places in the West.
Born in 1923, Mary Lou spent her early childhood in Seattle with her parents, Boyce and Frances. Mr. Gulley often took Mary Lou to Alki Beach, where they loved to build sandcastles. Mary Lou always cried when the waves came in and washed the castles away, and her father would comfort her by telling her that she was his princess and he would one day build her a castle big enough to live in.
The family's loving home was shattered when Mr. Gulley abruptly deserted his wife and young daughter in 1927. He refused to tell them where he was going or when he would return.
"It broke my heart that he left us," Mary Lou expressed in her memoirs.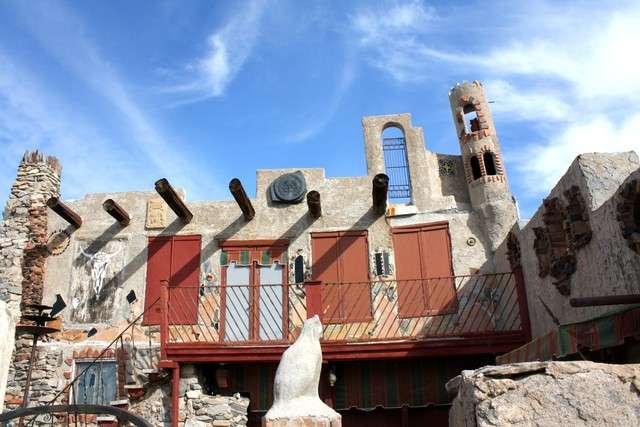 Over the next 18 years, Mary Lou received occasional letters from her father, but he never sent for his family and the mystery of his whereabouts persisted. Then a telegram arrived in 1945 with the news that Mr. Gulley had died in Phoenix. Soon afterward, Mary Lou and her mother received a personal letter written by Mr. Gulley just before he passed away.
In the letter, he explained that he'd left them because he'd been diagnosed with tuberculosis and told he only had six months to live. Afraid that he might infect his family, and also dreading the prospect of making them watch him struggle through a miserable death, he'd kept the illness a secret and departed for Arizona, hoping the arid climate would ease his suffering.
"Dearest Mary Lou: Can you forgive me?" he pleaded in the letter.
While the letter shed light on Mr. Gulley's departure, it also presented the grieving family with another mystery. Mary Lou learned that her father had left her a desert mansion he'd spent the past 15 years building.
She and her mother immediately traveled to Phoenix, anxious to learn more about the project that consumed Mr. Gulley's life. As their car pulled up to the imposing structure with parapets, balconies and turrets, Mary Lou suddenly realized that her father had fulfilled his promise by building her a castle to live in. The massive home contained 18 rooms with 13 fireplaces, a chapel and a dungeon.
Mr. Gulley left instructions that the castle was theirs to keep on the condition that they obeyed one peculiar request. In the basement, between the chapel and the dungeon, was a room Mr. Gulley called "Purgatory." On the floor of that room was a trapdoor, which Mary Lou's father forbade her to open until Jan. 1, 1948. Though confused by the secrecy surrounding the trapdoor, she honored his wishes.
As Mary Lou explored the twisted hallways of the 8,000-square foot castle, she began to learn more about what an epic undertaking it had been for her father. When Mr. Gulley arrived in Phoenix, he made his home in an old railway car and began planning the castle on a 40-acre plot of land.
With little money for building supplies, he roamed the valley with his mule looking for odds and ends that could be used in the construction. Many items came from the local dump. Others were found at swap meets. Old glass dishes were used for windows. The floor of one room was made with discarded blackboards from a schoolhouse. Other parts of the castle featured auto parts, wagon wheels, telephone poles and train rails.
Mr. Gulley was an enterprising man and the recycled elements of the castle were occasionally juxtaposed with valuable items, such as original furniture designed by Frank Lloyd Wright. Portions of the walls even included Native American petroglyphs chipped from cliff faces. This hodgepodge of components was held together by mortar with a unique ingredient: goat's milk.
While waiting for the day when she could open the forbidden trapdoor, Mary Lou discovered plenty of other surprises left by Mr. Gulley. On one occasion, she removed a loose stone in the wall and hundreds of coins poured out. In other hidden spots she found necklaces, cash, gold nuggets, gems and personal notes from her father.
Mrs. Gulley contacted Life magazine and told editors about the family's castle, with its mysterious trapdoor in the Purgatory room. A crew was sent to interview them and document the opening of the trapdoor on the appointed day. Everyone involved wondered what might be inside. Treasure? A secret chamber? A corpse?
With her mother and the Life magazine crew anxiously looking on, Mary Lou opened the trapdoor on Jan. 1, 1948. Gaping below her in the darkness was a 9-foot pit. Mary Lou bravely descended into the pit and found gold, cash, letters from her father and a photograph taken of him just prior to his death. Carefully sifting through the items, Mary Lou noticed a small piece of paper. It was a valentine she'd made for her father when she was a young girl.
Life magazine published their article about the Gulley family on Jan. 26, 1945, with this rather wordy title: "Life Visits a Mystery Castle: A young girl rules over the strange secrets of a fairy-tale dream house built on the Arizona desert." With this headline, the name "Mystery Castle" was born.
Following the notoriety brought on by the article, Mary Lou and her mother began offering tours of their home. Curiosity seekers came from near and far, and Mary Lou willingly presented the castle's quirks and shared stories of its murky past.
Frances Gulley passed away in 1970 and Mary Lou continued living in the castle and sharing stories with visitors. She felt it was her legacy and she never wanted to be separated from it.
Visiting the Mystery Castle
Admission: $10 for adults and $5 for children ages 5-15

Hours: 11 a.m. to 4 p.m.

Thursday through Sunday only

Phone: (602) 268-1581

Address: 800 East Mineral Road, Phoenix, Ariz., 85042
After several decades in the Mystery Castle, Mary Lou passed away in 2010. Like her father before her, she took many secrets to the grave. What strange discoveries did she make in the castle and keep to herself? Did she suspect that the castle still held undiscovered treasures hidden by her father? Had she hidden any items of her own?
Mary Lou's obituary, which identifies her as the "resident princess and proprietress of the Mystery Castle," is a striking representation of how thoroughly the castle captivated her life. After providing a summary of how her ailing father constructed the dream home for his daughter, it announced that before her death, Mary Lou had created the Mystery Castle Historical Foundation, a 501(c)(3) organization that would "ensure the Castle and the spirits of her father, mother … and the other keepers of the Castle would live on."
The final line of Mary Lou's obituary is an invitation to anyone who has ever wanted to come face-to-face with mystery: "The Castle remains open to the public so that all may explore the wonders that lie behind its magical doors."
Grant Olsen joined the ksl.com team in 2012. He covers travel, outdoor adventures, and other interesting things. Contact him at grant@thegatsbys.com.
×
Photos
Most recent Features stories