Estimated read time: 5-6 minutes
This archived news story is available only for your personal, non-commercial use. Information in the story may be outdated or superseded by additional information. Reading or replaying the story in its archived form does not constitute a republication of the story.
SALT LAKE CITY — In the arctic conditions that have swept the country recently, this is a good time to think about a mass exodus to some place warm. Most of us would love to invade Cancun this time of year. If you can't make that flight, you should be prepared for unpleasant and sometimes unsafe local conditions. During cold weather, your front entry and front porch can transform from warm and inviting to cold and painful.
Recent statistics indicate that at least 17,000 people die in slip-and-fall incidents per year, and that the nationwide cost of slips and falls is $36 billion yearly. There are more than one million injury producing accidents per year in the United States alone. If those numbers don't give you a chill, consider this: Half of all elderly adults (over the age of 65) hospitalized for hip fractures cannot return home or live independently after the fracture. If you have an elderly parent, a slip on ice or snow could end their lives as they know it.
In the experience of the writer, there is usually a $10 fix and a $10,000 fix to most home-related issues — and the $10 fix is always the better choice. Knowledge and simple actions are the key. If your front porch is icy, you could take simple steps to eliminate the ice (rain gutters, shovel, salt) or you could take the wrong step and wake up in the emergency room. Salt is cheap. Emergency rooms? They're not cheap — not at all.
North and east
While any exterior space can be dicey in the winter, there are certain sides of a home that are generally more of a concern. These are the north- and east-facing sides of the home. Why? Because they see the sun less. For example, a south-facing home will generally have more long-term ice and snow at the back door than the front. Consider this as you grab your snow shovel, your boots and your biceps and deliberate where to use them.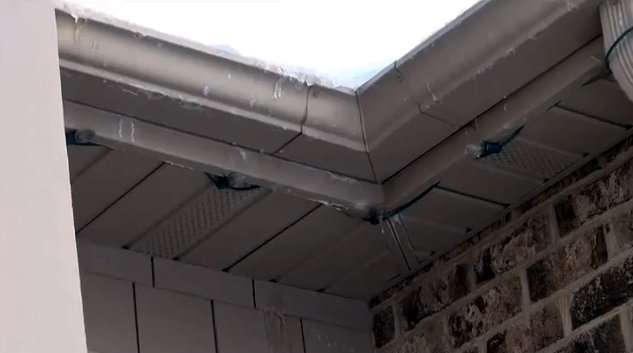 Drips from aboveThe sun and your snow shovel alone can't make your front entry safe. Take a walk around your home and look up: How much of your home has a rain gutter system to protect it? Does the water drain where you need it to drain? In recent arctic temperatures, drainage can be frozen inside the rain gutter, leaving you with a 500 lb. ice cube tray above your head. To make matters more interesting, that big ice tray will overflow in these temperatures, leaving icicles larger than full grown adults. These will of course drain onto your concrete, and presto! You have an ice skating rink right where guests must walk. This sort of condition is a win only for personal injury lawyers.
What to do about it? If you prefer to avoid that call from the lawyer, here's the $10 dollar fix: ice melting tape, also known as heat tape. You can get it at most hardware stores. This lovely material melts the snow and ice located near the drip line on your roof, allowing it to flow freely into your rain gutter. In very cold temperatures, the rain gutter will also need its own heat tape. Make sure that drainage from your roof makes it all the way down, then flows well away from your foundation. You don't need a pile of ice and snow near your foundation either — that's a recipe for flooding your basement.
Oh, and one other thing: Don't put heat tape up when it's already icy and cold outside. The installation will be poor and your ladder will slip. That's yet another way to see an ER, so better to avoid those.
Sidewalk slope
If you are keeping your gutters and concrete surfaces clear, give yourself a pat on the back; you have a great start. To keep your family and guests safe, there are still a few more items you should inspect. The first of these will be the slopes. Does your sidewalk have a slope to it? How about your front porch or steps? If you were to place a ball on any surface, would it roll? If so, even small amounts of icy winter weather can turn your concrete slab or steps into a skating rink. Depending on the slope, these areas will need more maintenance — or maybe just a complete rebuild.
Uneven steps
When you make that first step on a stairway, your brain learns how high to step for each of the remaining steps. When steps are uneven, you are far more likely to find yourself in the company of professionals: doctors, lawyers and insurance agents.
In newer homes, building standards call for stair risers to be about 8 inches in height. Treads (the area you step on) should be about 10 inches deep. It is not uncommon for home inspectors to see a porch with very different step heights. One recently inspected porch had a 9-inch first step followed by two 6-inch steps. There are myriad unsafe combinations, but the first rule is this: step height must be consistent.
Sometimes the tread is the problem: if a deck is made with 2x4 lumber, occasionally the lumber can be damaged. This creates a smaller tread that you have to aim your foot at. All of these conditions are dangerous, and are guaranteed to cause trip and fall accidents.
Choose the $10 fix
The $10 fix is usually simple: Shovel the sidewalk. Get ice melting tape. Pour reasonably flat concrete slopes. These steps are not glamorous, but they do allow you to keep your family safe at home and your money in your wallet. That's always the best place for them to be.
Garth Haslem is a structural engineer, home inspector, writer & author. He speaks on home related issues at home expo's as "The Home Medic". Follow "the home medic" on Facebook or Pinterest. Web: www.homemedic.tv & www.crossroadsengineers.com
×
Most recent Lifestyle stories