Estimated read time: 2-3 minutes
This archived news story is available only for your personal, non-commercial use. Information in the story may be outdated or superseded by additional information. Reading or replaying the story in its archived form does not constitute a republication of the story.
TEL MOTZA, Israel — Archaeologists have discovered an ancient Judean temple on the outskirts of Jerusalem.
The 2,750-year-old temple, along with a collection of sacred vessels, was unearthed during excavations by the Israeli Antiquities Authority in preparation for a new highway being built in the area.
The finds, including pottery figurines of men and horses, provide rare evidence of the religious practices and rituals in the early days of the Kingdom of Judah, according to the IAA.
"The ritual building at Tel Motza is an unusual and striking find, in light of the fact that there are hardly any remains of ritual buildings of the period in Judaea at the time of the First Temple," the archaeologists said in a prepared statement. "The uniqueness of the structure is even more remarkable because of the vicinity of the site's proximity to the capital city of Jerusalem, which acted as the Kingdom's main sacred center at the time."
The walls of the structure are "massive," according to the IAA, and include a wide, east-facing entrance, conforming to the traditional temple construction of the Near East: "the rays of the sun rising in the east would have illuminated the object placed inside the temple first, symbolizing the divine presence within."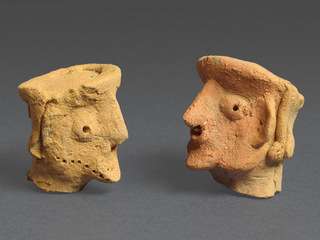 A square structure thought to be an altar was exposed in the courtyard, near where the pottery figurines were found. Fragments of chalices, decorated ritual pedestals and figures of animals — mostly harnessed — and human heads with a flat headdress and curled hair. The archaeologists said the significance of the figures, including one of a bearded man, will require further research.
Ritual elements in the Kingdom of Judah are a familiar part of the historical record, thanks to numerous finds at sites scattered throughout Israel. But such finds are usually attributed to domestic rituals, according to the IAA. Remains from ritual ceremonies of this period have been found at only a few sites.
×
Photos
Related links
Related stories
Most recent Features stories