Estimated read time: 1-2 minutes
This archived news story is available only for your personal, non-commercial use. Information in the story may be outdated or superseded by additional information. Reading or replaying the story in its archived form does not constitute a republication of the story.
ZIRC, Hungary — Researchers have discovered fossils in western Hungary belonging to an ancient "sea monster"-like creature.
The 84-million-year-old creature is the oldest-known freshwater species and belongs to a family of aquatic reptiles known as mosasaurs, which looked like crosses between crocodiles and whales, according to National Geographic.
The creature, named the Pannoniasaurus inexpectatus, is the first thought to have spent its entire life in fresh water. The area of the Bakony Hills in which they were found is known to once have been a home to fish, amphibians, turtles and other freshwater creatures.
"The evidence we provide here makes it clear that similar to some lineages of (whales), mosasaurs quickly adapted to a variety of aquatic environments," László Makádi, a paleontologist at the Hungarian Natural History Museum, said in a statement.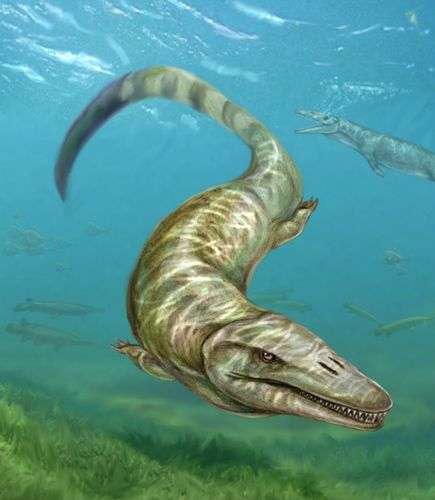 The creature's fossils were uncovered beginning in 1999 from a mine in the Bakony Hills of western Hungary. The ages of the creatures at their time of death ranged from juveniles to adults 20 feet long.
The new findings suggest the evolution of mosasaurs is remarkably similar to that of whales and dolphins.
"To the best of our knowledge, the ancestors of mosasaurs and of some related reptiles moved from land to aquatic realms at least 100 million years ago.Makádi told LiveScience. "Then sometime between this event and 85 million years before present — the age of our locality in Hungary — some primitive members of the already-marine mosasaurs adapted to freshwater life. Pannoniasaurus represents these."
The research was published Dec. 19 in the journal PLoS ONE. Researchers are hoping future finds will help them learn how the beast moved and what it may have eaten.
×
Related links
Related stories
Most recent Science stories