Estimated read time: 2-3 minutes
This archived news story is available only for your personal, non-commercial use. Information in the story may be outdated or superseded by additional information. Reading or replaying the story in its archived form does not constitute a republication of the story.
Sarah Dallof reporting Thirteen thousand dollars worth of stolen clothing has been recovered, and a shoplifting ring is busted by Sandy police. Now, two people are in jail, and police are looking for two other suspected shoplifters.
The suspects were coming prepared. Police say the four brought bags from other stores inside outlet stores and an Old Navy store to show employees they were just out shopping. The bags also provided a convenient place to stash the stolen clothes.
Stacks of sweaters, piles of pants; they're just some of what Sandy police recovered from a traffic-stop-turned-shoplifting-bust.
"[They had] several different bags from different stores to make it look like they'd been shopping elsewhere," explained Sgt. Victor Quezada, spokesman for the Sandy Police Department.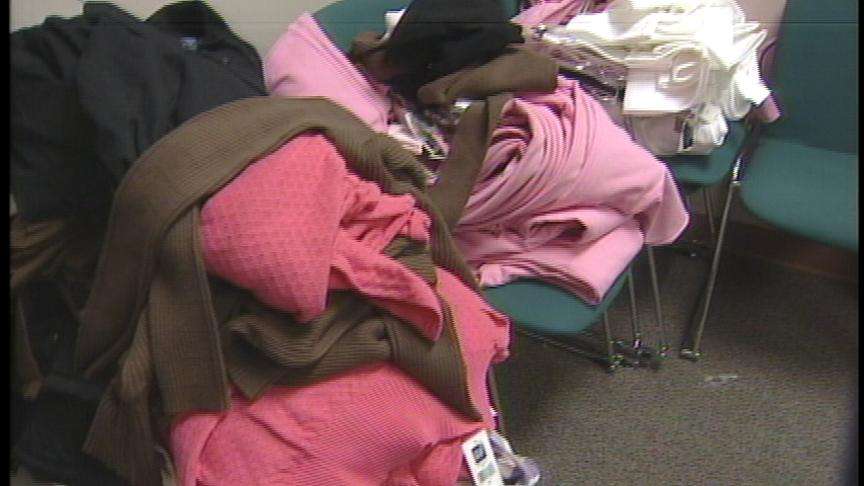 Police say the four suspects took those bags into the outlet stores at Park City and an Old Navy store in Sandy. They'd hide the clothing inside and make trip after trip to two vans to empty them.
"As Christmastime comes around, holidays come around, people do desperate things a little more so," Quezada said.
When a loss-prevention officer at the Old Navy store tried to stop them, two ran off. The other two, Jorge Monterroso and Juan Mora, drove away in one of the vans but were pulled over and arrested by a police officer who recognized the description of the vehicle.
Investigators say the arrests are the result of a chain of people reporting suspicious behavior, something they advise all customers to do, be it to the store's management or to police.
"Let them know somebody's causing prices to inflate all around the state and the nation," Quezada said.
An interesting note: Police don't think any of the four are from Utah. They believe they're from Nevada. So far, they haven't had any luck locating the other two suspects, and the descriptions of them are pretty vague.
×
Most recent Utah stories