Estimated read time: 2-3 minutes
This archived news story is available only for your personal, non-commercial use. Information in the story may be outdated or superseded by additional information. Reading or replaying the story in its archived form does not constitute a republication of the story.
Nicole Gonzales reporting A matter of moments. That's how long it takes for flames to rush through a Christmas tree, igniting a fire that could quickly engulf a home.
The stress of the holidays can be overwhelming, and the South Salt Lake Fire Department showed Eyewitness News that if you're not careful around your Christmas tree, it could cause a real problem.
Millions of families every year get through the holidays safely, but there are those few accidents that can quickly turn into disasters. They often involve negligence around Christmas trees.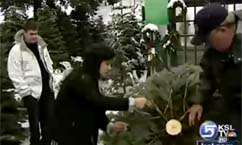 The first step in making sure your tree is safe: Get one that's well-irrigated to begin with.
Wes Harwood, owner of Harwood Trees, said, "Make sure the the needles feel vibrant. Make sure it's really fresh. I always say, If you're not sure about a tree, don't pick it.'"
The holidays aren't complete without a tree, but if you don't take proper care of it, it could be a hazard to your home.
To avoid a tree fire, fire officials recommend watering your tree with at least a half gallon a day; that's if your pets aren't drinking from the bowl.
Also, be mindful of popular fire starters like candles, space heaters and tree lights. Most importantly, leave those things off when you go to sleep.
South Salt Lake Fire Chief Steve Foote said, "Those are the critical times because they don't hear [alarms]. They're breathing in that smoke, and they start to get worse off by the minute. Chance of survival are so much less."
He said that sometime in the next month there will be a fire caused by Christmas-time carelessness.
"Take a step backwards. Right now, we're all so busy getting ready for the holidays. Take a step back, focus on safety and common sense, and then you can help avoid a potential disaster," Foote said.
A disaster, he said, that would be made worse by the timing of the holiday season.
There are several other things you can do to safeguard your home this season. For more, go to the links on this page.
×
Related links
Most recent Utah stories