Estimated read time: 2-3 minutes
This archived news story is available only for your personal, non-commercial use. Information in the story may be outdated or superseded by additional information. Reading or replaying the story in its archived form does not constitute a republication of the story.
ROOSEVELT — Stephen Moon has been building gingerbread houses at Christmastime for as long as he can remember.
"My mom was doing it before I was born, so for my entire life, gingerbread houses were part of Christmas," he said.
But the cookie and confection creations Moon makes now with his wife, Sabrina, and his mother, Ann, are not your typical gingerbread houses. In recent years they've built a North Pole library, an enchanted mansion and even a replica of a Fisher-Price castle that Moon had as a child. They've built a castle this year as well, complete with a pitched battle between Santa's elves and a goblin army.
The entire display measures 6 feet long by 2 feet wide by 1½ feet tall, and all of it — from the stained glass windows made out of melted Jolly Ranchers to the Shredded Wheat and Graham cracker siege tower — is edible.
"Everything from end to end is cookies, candy and frosting," said Moon, who manages the Duchesne County Library's Roosevelt branch, where the castle is on display through New Year's Eve.
"There are no supports, no wrappers, no foil," he said. "There's no toothpicks holding things together."
Even the dragon could be eaten, if you dipped him in milk long enough.
"I baked individual cookies (for the dragon)," Moon said. "My wife covered it in fondant frosting and then sat there and hand-detailed it bit by bit."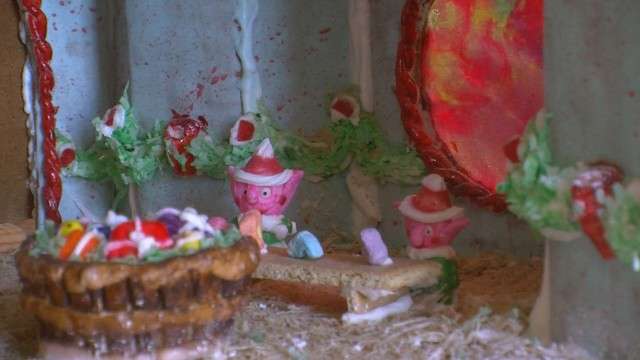 And while the family has taken on some big gingerbread construction projects in the past, this year's project is their largest and took the longest to build.
"This one took us six weeks," Moon said.
The creation has received postive response from most a library patrons. But there have been a few critiques, too.
"I had two boys — early teens, regulars at the library — they came and and were looking at it and they were going, 'The catapults are misplaced. There's too much risk of a reindeer casualty with how you have that,'" Moon said.
"And I have had one person point out to me the obvious fact that there are no penguins at the North Pole," he added, pointing to the Emperor penguins made out of Teddy Graham cookies and frosting that are fighting alongside the elves and reindeer.
While he loves the creative debates the castle has inspired, Moon said there's one response he enjoys most.
"My favorite reaction, of course is little kids asking mom and dad, 'Can we make a gingerbread house when we get home?'" Moon said. "And mom and dad saying, 'Yes, but it won't be like this one.'"
×
Photos
Most recent Utah stories