Estimated read time: 3-4 minutes
This archived news story is available only for your personal, non-commercial use. Information in the story may be outdated or superseded by additional information. Reading or replaying the story in its archived form does not constitute a republication of the story.
SALT LAKE CITY — Like most of you, I've been extremely distraught since hearing the news of the [shootings in Newtown, Conn.](<Gunman kills 26 at Conn. school, commits suicide>), earlier this month. I find myself getting teary-eyed over seemingly small things that pop up in unexpected moments: smiles from my children, a song on the radio, a commercial, and of course a news blip reporting something related to the tragedy.
I first heard about what had happened when my husband called me from work the morning of Dec. 14 and relayed to me the unthinkable news he had just read online. I couldn't believe it. I didn't want to believe it. Of course, the first thing I thought of was my own children.
I didn't turn the TV to a news channel all day, not wanting to risk my 4- and 3-year-old children hearing about the horrific event. After awhile I pulled up the Internet on my phone and found a recap article of what had happened. Usually when something big in the news takes place I read an article online and then hop over to another, and another, trying and glean information and viewpoints from a couple different sources. But this time I couldn't even stomach that one article. I got halfway through and felt sick. I had to stop reading.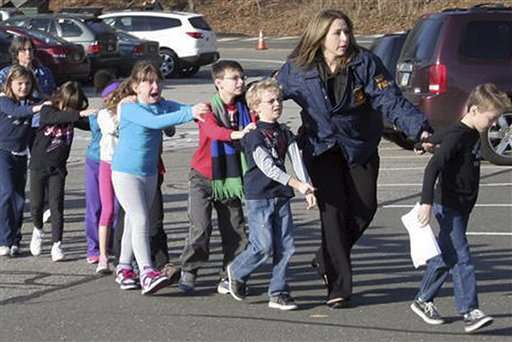 Finally that night, after the kids were all settled down and in bed, we turned on the news. I watched, trying to choke back the tears, for about 10 minutes. Then, again, I couldn't take it anymore. It was too horrific, and having a son who will begin kindergarten at the "big-kid school" next year, it just hit too close to home.
That night I had a hard time falling asleep. I couldn't stop thinking about the sweet children and heroic adults whose lives were so carelessly taken, and their poor families trying to cope with such sudden and disturbing loss.
The next morning I woke up feeling depressed. What kind of world are we living in? How can we ensure our children's safety? How can we ensure our own child won't end up being a victim, or even a killer?
Then I saw something floating around on Facebook, and for the first time since hearing the news the day before, I felt a glimmer of hope:
"And in despair I bowed my head:
"'There is no peace on earth,' I said,
"For hate is strong and mocks the song
"Of peace on earth, good will to men."
"Then pealed the bells more loud and deep:
"God is not dead, nor doth he sleep;
"The wrong shall fail, the right prevail,
"With peace on earth, good will to men."
— Henry Wadsworth Longfellow
This holiday season, it the wake of this horrible tragedy, I plan to keep this song as a little prayer in my heart. Perhaps through being a little kinder, a little more thoughtful, and not just singing about good will to men but actually striving to live that principle, we might be able to help our world become a better, more peaceful place.
"Wrong shall fail, the right prevail, WITH peace on earth, good will to men."
The truth is we can't always control what goes on around us. We can try our very hardest to keep our children, our loved ones, and even ourselves safe, but sometimes horrible things happen. So much is beyond our control, and there isn't much we can do about that. But perhaps good will to men is some place to start.
God bless the families of those sweet children and saintly teachers and administrators whose lives were taken on that dreadful day.
---
Lindsay Ferguson is a wife and mother of two young children. A Communication graduate from University of Utah, she writes from home and keeps up a blog at www.lifeasamomuncut.blogspot.com.
×
Related links
Related stories
Most recent Home & Family stories