This archived news story is available only for your personal, non-commercial use. Information in the story may be outdated or superseded by additional information. Reading or replaying the story in its archived form does not constitute a republication of the story.
LOGAN — Matt Wells was introduced at a Thursday afternoon press conference in Logan as the new head football coach at Utah State.
Wells, who was introduced by Athletic Director Scott Barnes, will take over for Gary Andersen who left the Aggies to become the head coach at Wisconsin.
"We crafted our Football Excellence Plan four years ago in part to attract and retain top level assistants. Individuals who, if called upon, could grow into excellent head coaching candidates. Matt Wells has become our succession plan," said Barnes. "With resources generated through the Merlin Olsen Fund we were able to bring Matt to USU. Matt's body of work as offensive coordinator has gained national attention and his significant contribution to our success over the past two years will be critical in providing continuity. Aggie football has gained national respect. Matt is simply the right leader at the right time to continue that progress."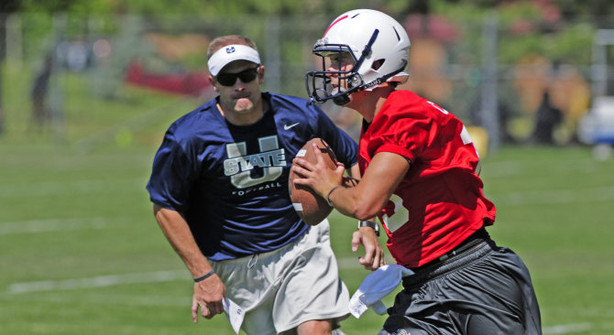 Wells, who is 38 years old, has served as Utah State's offensive coordinator and quarterbacks coach the past two seasons.
"We will continue to strive for excellence on the field, in the classroom and community, and continue the blueprint for success that has been established over the last few years," Wells said. "Our goal will be to compete for Mountain West Conference Championships and bowl championships on a yearly basis with young men that represent Cache Valley and Aggie Nation with the utmost class."
Under Wells guidance this season, the Aggie offense led by Chuckie Keeton ranked 23rd nationally.
Wells, who played quarterback for the Aggies from 1993-96 and has coached at Navy, Tulsa, New Mexico and Louisville, said the offense will stay the say, but has not hired an offensive coordinator. "I'm still working on that," he said.
Wells got emotional when talking about and thanking outgoing coach Andersen.
"He hired me sight unseen," Wells said.
×
Related Stories