Estimated read time: 3-4 minutes
This archived news story is available only for your personal, non-commercial use. Information in the story may be outdated or superseded by additional information. Reading or replaying the story in its archived form does not constitute a republication of the story.
Scott Haws reporting In the 2002 movie "Catch Me If You Can", Leonardo DiCaprio stars as the young Frank Abignale - a brilliant high-school drop-out who masqueraded the globe posing as a Pan Am airline pilot, a pediatrician, an assistant District Attorney - all along the way cashing about 2.5 million dollars in bogus checks.
But there's one claim by the real Abignale that continues to raise eyebrows here in Utah. Was he really a "Con on Campus"?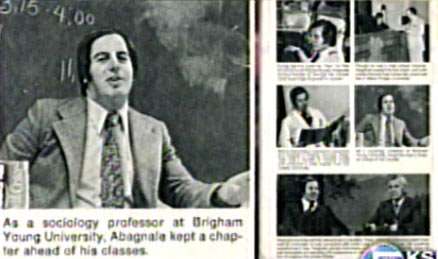 Frank Abignale/2002 "Catch Me If You Can": "I left there and went to teach school at Brigham Young as a professor of sociology. Wasn't difficult, read one chapter ahead of my students. They never knew the difference."
That's the real Frank Abagnale in an interview shown during the credits of the movie "Catch Me if You Can."
In the 1980 edition of the book Catch me if you can, there's even a picture of Abignale with a caption reading, "As a Sociology Professor at Brigham Young University, Abignale kept a chapter ahead of his classes."
Then in the tie-in edition released in conjunction with the movie, Abignale spent five pages detailing his Campus Con, saying things like...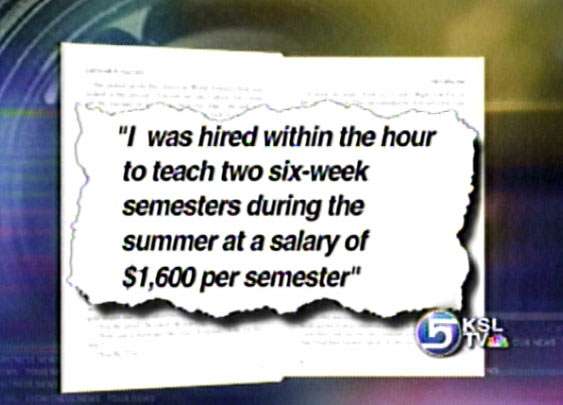 "I was hired within the hour to teach two six-week semesters during the summer at a salary of $1,600 per semester."
"I was assigned to teach a ninety-minute freshman course in the morning, three days a week..."
"There were 78 students in my freshman class and 63 students in my sophomore course..."
Abignale even says, "At least fifty of my students sought me out to tell me how much they had enjoyed my classes."
Carri Jenkins, Brigham Young University: "We have found absolutely no record."
In anticipation of an upcoming interview with Abignale, we headed to Provo to once and for all try to get to the bottom of this claim. DDid Frank Abignale pose as a Sociology Professor at BYU?
Carri Jenkins, Brigham Young University: "We've also gone back and talked with people, secretaries, faculty who worked in the department throughout the years and who were there at the time he claims he was here. And again, absolutely no recollection of seeing him or having him here."
With that information, it was time to ask Professor Abignale about his Provo plunder.
Frank Abignale, Famous Con Man: "That was just back in the late 1960's. I was in Provo and had met a girl whose father was a professor at BYU. And I got to go up and teach just a couple of weeks of a summer course up there more as like a teacher's aide; it wasn't really a big thing."
Scott Haws: "What alias did you use down there when you actually taught?"
Frank Abignale, Famous Con Man: "I had so many aliases, I can't even remember what name I probably used there. I used different names almost every week."
And after refreshing Frank's memory about the details highlighted in his book, he says co-author Stan Redding took liberties with some stories, though still maintaining he taught at BYU.
Frank Abignale, Famous Con Man: "He would just take some things and take and exaggerate them a little bit, but that was a factual event of being at BYU."
So despite claiming to be a sociology professor in at least three books, two solely written by Abignale himself, and an on-camera claim following the movie, it appears Abignale as a BYU professor is mostly or entirely just another real fake.
BYU does admit, had Abignale been invited as a guest lecturer or teacher's aide as he claims, they would have no record of it.
×
Most recent Utah stories