Estimated read time: 1-2 minutes
This archived news story is available only for your personal, non-commercial use. Information in the story may be outdated or superseded by additional information. Reading or replaying the story in its archived form does not constitute a republication of the story.
Alex Cabrero reportingChristmas is still a couple of weeks away, which is plenty of time for some kids to still make it on Santa's Nice list. For those already on that list, Santa was at the South Towne Center in Sandy tonight to listen to their wishes.
Santa had the usual requests, like Power Rangers for boys and Barbies for girls, but he'll also have to include things like cell phones, puppies and video games he's never heard of in his gift bag this year. Hopefully his elves can help him with some of those high-tech requests.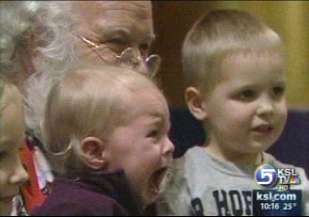 No matter what the children ask for, though, Santa says he has the best job in the world, because he gets to talk to kids all day.
For all the times kids get to meet Santa in their life, there's nothing like that first time. Santa doesn't blame the ones who scream and cry though. He told us, "You bring a little kid up here, who's 18 months old and set him down on a guy's lap, with a big head of hair and a full beard, that's scary."
Even with all his experience sitting with kids, he hasn't figured out how to keep them from crying that first time. "Sometimes you do and sometimes you don't," he said.
But for every tear-filled eye, there are plenty of smiles. For all the toys, gadgets, animals or whatever else the kids ask for, he wouldn't say no to any of them.
×
Most recent Utah stories