Estimated read time: 3-4 minutes
This archived news story is available only for your personal, non-commercial use. Information in the story may be outdated or superseded by additional information. Reading or replaying the story in its archived form does not constitute a republication of the story.
NEOLA, Duchesne County — For at least three years, Jeff and Diana Hanke have known they needed to do something about the size of their home, which he affectionately refers to as "The Crackerbox."
"It's been a good home and a good place to live," Diana Hanke said. "We've really enjoyed it up here, so we've made do."
The Hankes, both teachers in the Duchesne County School District, finally decided earlier this year that they were ready to remodel their three-bedroom home to better accommodate themselves and their five children.
"I was going to the county office to get all the paperwork to get the thing going," Jeff Hanke said. "That's when the doctor called me and said we need you down here, and that just, that changed everything."
It was July 2, and after weeks of experiencing pain in her back, Diana Hanke had finally gone to see her doctor. After running a series of tests and reviewing the results, the doctor sat the Hankes down.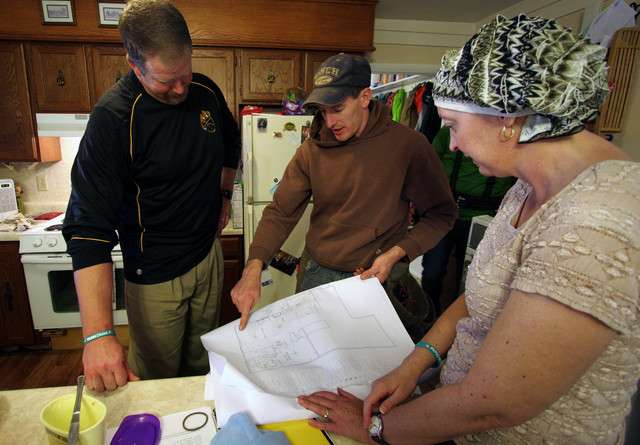 "He didn't know for sure at that time, but he immediately said lymphoma," Diana Hanke said.
Additional tests confirmed the diagnosis and showed there was a mass that was filling up the space around her heart and lungs.
Unsure of how much treatment would cost them, even with their health insurance, the Hankes decided to postpone their plan to remodel their home.
"Realistically, I think our thought was, we'll get another shot next spring or next summer," Jeff Hanke said.
Then, their friends and neighbors stepped in.
"We just thought it'd be a great way to have everybody come together and just do something neat — do something exciting for the family," said Essie Zager, who helped organize the volunteer effort to build the addition to the Hankes' home.
The project immediately received donations of time, money and materials. Volunteers showed up on weekends or after work to help out. Companies supplied heavy equipment to help excavate the foundation and haul off the dirt, as well as concrete, framing packages and trusses. A restaurant even brought food up to the job site to feed the crews during a recent work day.
There have also been bake sales and other fundraisers, including the auctioning off of two decorated Christmas trees for the Hankes that raised more than $20,000 at the annual Enchanted Forest charity event in Roosevelt.
The goal of the project, Zager said, is to complete the remodel the Hankes' had planned — adding two bedrooms, a bathroom, and a bigger dining room and kitchen to the home — at no cost to the family. So far, that goal has been met.
"We're really hoping to get to the point where we can just cover the whole project for them, and we're almost there," Zager said.
Doctors were unable to surgically remove Diana Hanke's tumor because of its location, but they've told her the cancer is responding to chemotherapy. She and her husband are grateful for that, and say they know they're blessed to live in a community where people show how much they care about one another.
"To think people are so willing to help others, it's very humbling," Jeff Hanke said, wiping away tears. "It's a very humbling experience."
To donate to the Home for the Hankes project, call Union High School at 435-725-4525.
×
Photos