SALT LAKE CITY — Three years ago on Thanksgiving Day, KSL News tagged along for a morning race with a group of cancer patients. Now the captain of "Team Tumor," spends his remaining days bringing a bit of happiness to his fellow patients at the Huntsman Cancer Institute.
When we caught up with Dov Siporin earlier this week, he was decked out in a turkey suit, with balloons for stuffing, showing off his tail feather in the middle of the hospital.
He was leading a birdie brigade at the Huntsman Cancer Institute, spreading Thanksgiving cheer to patients and staff. After all, Dov knows they could use something fun and uplifting. He's spent many a holiday at the hospital.
"I have tumors in a bunch in my liver, some around my heart, a bunch in my pancreas, and in my lymph nodes," he explained.
At age 38, Dov has stage 4 colon cancer. He's now five years into his treatment, and has logged more than 5,000 hours in a chair receiving chemotherapy treatments.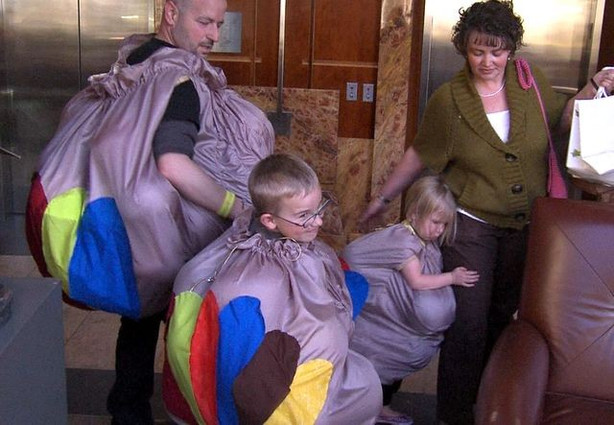 "I had a lot of other plans, and none of them included cancer," Dov said.
After his initial diagnosis, this young father of two small children briefly considered suicide. Ultimately, he decided he couldn't do that to his family.
He was terrified, and humiliated at the thought of his first radiation treatment. Given his type of cancer, that had to be administered to an area no one wants to expose.
But as he dressed in his hospital gown for the first time, he suddenly got an idea.
"I leaned back and wrote a big smiley face on my butt," Dov said, "two eyes on each side, and then a big smile."
When the doctor and nurses pulled open his gown, "they just bust up laughing," Dov said.
The humor was healing. He later recruited his wife to write messages of the day, such as "does this radiation make my butt look big?"
Then Dov took it a step farther and started dressing in costume for appointments and scans: Cupid for Valentine's Day, a lion, Scooby Do, even the Grim Reaper. On that day, he gave his fellow patients foam swords to fight him off.
Dov's always armed with candy and an ear for other patients, some in their darkest moments.
"When anger and rage have not been enough armor, joy and humor have been there for me," he said.
---
There's this moment that you forget about the pain that you're in and you're just happy, If I can do one moment like that for one person here, that's good.
–Dov Siporin
---
"When you start looking around — no matter how bad things are, no matter how rough they are," he continued, "if you start looking around and you say I want to find out what I'm thankful for, or what is good in my life, you can find it."
On this Thanksgiving Day, Dov will give thanks for the life he continues to live and the joy he can bring to others suffering in a way he understands all too well.
"There's this moment that you forget about the pain that you're in and you're just happy," he said. "If I can do one moment like that for one person here, that's good. That's something good."
Dov knows his life will end long before he wants it to, likely without walking his little girl down the aisle or holding his first grandchild, but his life's message is one his family, and all who meet Dov, already know.
"I could spend all my time worrying about that death, and worrying about the pain, and then I would lose everything that I have right now," he said. "The only important thing for them to know is that I love them."
×
Photos
Related Links
Related Stories