Estimated read time: 1-2 minutes
This archived news story is available only for your personal, non-commercial use. Information in the story may be outdated or superseded by additional information. Reading or replaying the story in its archived form does not constitute a republication of the story.
IOWA — Scoring records are always impressive and we love it when guys can drain threes at will, but no one has ever come close to doing what Division II player Jake Taylor did Tuesday night.
The guard from Grinnell College in Iowa scored 138 points and went 52 for 108 from the floor and hit 17 three-pointers. Yes, 17.
Grinnell beat Faith Baptist Bible College 179-104 and a player on the other team managed to score 70.
As Kobe Bryant himself said, "That's impressive. That's crazy. I don't care what level you're at. Scoring 138 points is pretty insane."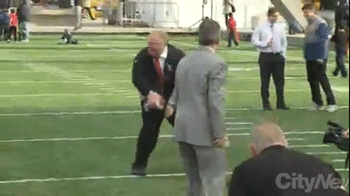 I think insane is a pretty good word. Watch the highlights here and you can also check out the interview ESPN did with Taylor.
Toronto, You Elected This Man
Toronto mayor, Rob Ford, loves football and even wants to get an NFL team in his city. While that doesn't seem to be in his immediate future, he does have the Toronto Argonauts who are playing in the 100th Grey Cup this weekend.
There are festivities all over the city and Ford thought he'd join in some. There was a pep rally outside of city hall when Ford thought he'd take a three-step drop and hurl the ball down the field. The ball didn't go anywhere, but Ford himself was hurled to the field.
I don't mean to laugh at others misfortunes, but I cannot stop laughing at this. At least he didn't fumble.
×
Most recent Sports stories