Estimated read time: 4-5 minutes
This archived news story is available only for your personal, non-commercial use. Information in the story may be outdated or superseded by additional information. Reading or replaying the story in its archived form does not constitute a republication of the story.
Utah fans are still trying to figure out how to not go to a bowl game. BYU fans have popped open tubs of Rocky Roads and planted themselves in front of a TV playing 1984 highlights. Utah State? Logan has exploded, we don't quite know what has happened in Cache Valley since Saturday.
Here are my takeaways from the weekend: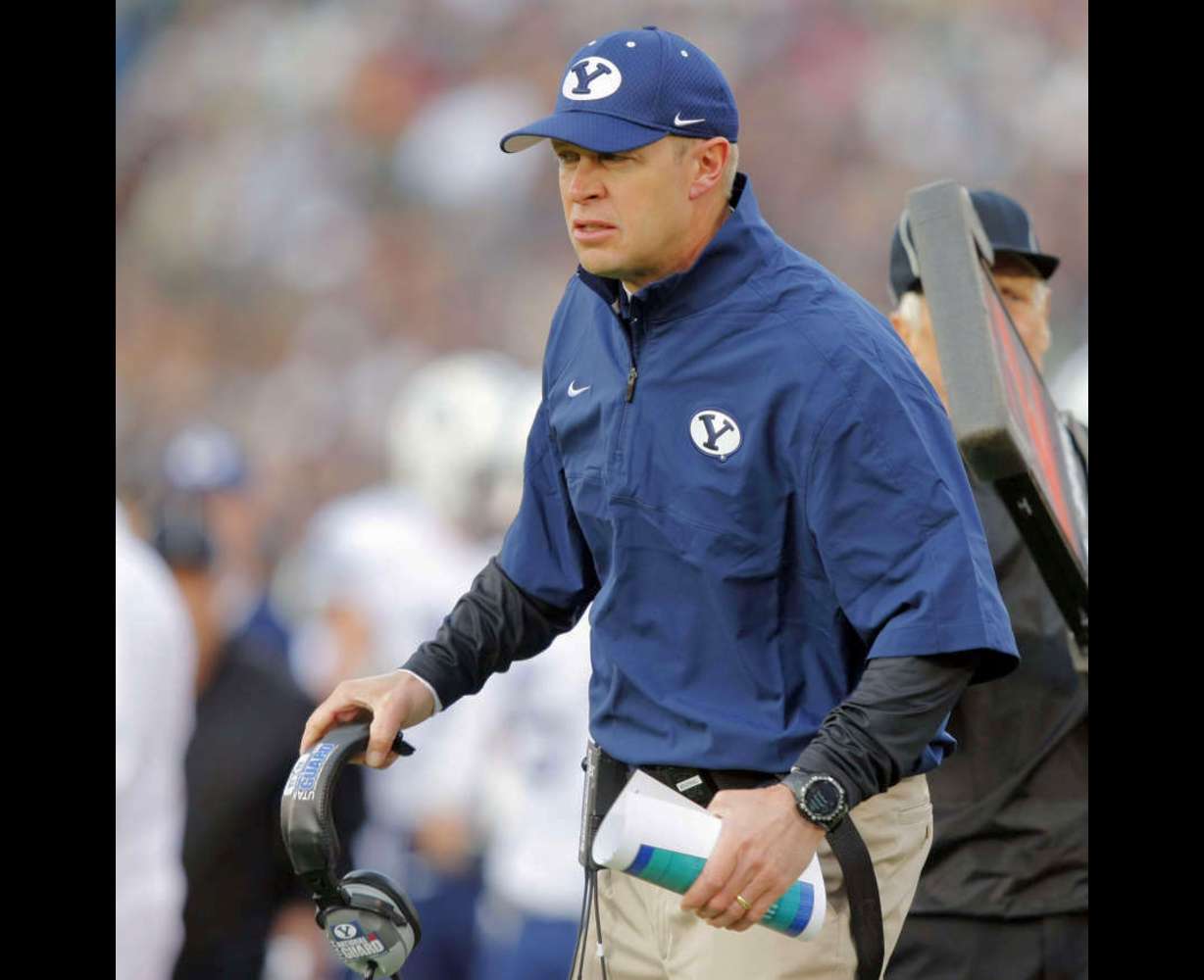 Well, BYU is headed to the Poinsettia Bowl (which we knew two months ago), but now we know they are probably going to play San Diego State. Both teams have now lost to San Jose State. Marshall Faulk and Ty Detmer are shaking their heads.
There are only two ways to explain Bronco Mendenhall's continued confidence in Riley Nelson: either James Lark is worse than we could possibly imagine, or Bronco is being blinded by his loyalty to Riley.
Kyle Whittingham has repeatedly said that this is the most talented team he's had since he's been the head coach at the University of Utah, outside of the 2008 Sugar Bowl team. If that's the case, when is it time to start blaming the coaches for the underachieving?
If your starting quarterback is a true freshman and your offensive coordinator is 25-years-old, you are going to have some growing pains. Why we didn't all see that coming is a little embarrassing.
So what about those growing pains? Are they actually producing growth? It is obvious that Travis Wilson has gotten better during his time as the Utes' starter. The Washington game was a big step back, but I put the blame on Brian Johnson for that one … speaking of growing pains. Johnson's growing pains are slightly more concerning. Utah makes running an offense look like trying to land a human on Mars. There were some things that weren't working that Johnson took out of the offense (i.e. quarterback draw), but there are still some things that need to be taken out (i.e. the slip screen that hasn't worked since Urban Meyer was at Utah, the two-yard out route to the tight end). Part of the spread offense is spreading the field to allow the playmakers to get open downfield. Johnson isn't giving them a chance as much as he needs to. I think he will, but it will take time. I guess that's why they call them growing pains.
The Aggies' victory over 19th-ranked Louisiana Tech was filled with excitement, stress, worry, anxiety then ecstasy. Once that all dissipated, there was that awkward silence where everyone tries to take in everything. Then there was that guy who started with great enthusiasm before fading into a mild disappointment. "We just won the WAC! Now we get to … go play … in … the Famous … Idaho … Potato … Bowl." What?! How does that happen? The best team in the state of Utah wins its conference and plays in the Famous Idaho Potato Bowl. Well, usually the WAC champs go to the, you got it, the Poinsettia Bowl. But this season, they go to the Famous Idaho Potato Bowl because BYU took the WAC's spot in the Poinsettia Bowl this season.

BYU and Utah fans have been complaining all year about how close they have been to successful seasons. We get it, BYU could have beaten Utah, Boise State and now number-one Notre Dame. We get it, Utah was in every game they played in except Arizona State. But make way for the kings of almost. Utah State fans are celebrating today, but they're also playing the 'what-if' game. The Aggies were one chip-shot field goal away from beating Wisconsin and four points away from beating BYU. Those two losses are all that now keeps Utah State from a BCS Bowl. Utah State going to a BCS Bowl before BYU? Mayans …
Do you think that Utah State fans are still angry about Riley Nelson choosing to go to BYU after he got home from his Mormon mission?
After this weekend, my final in-state power rankings:
Utah State
Jordan High School
Utah
BYU For more opinion, bowl projections, top tens and smack talk, go to BYUtahInsiders.com.
Trevor Amicone is the founder of byutahinsiders.com, which covers BYU, Utah and national college football with weekly polls, bowl projections, opinions and analysis. Follow its brand new Twitter page at @BYUtahInsiders and Trevor's at @TrevorAmicone.
×
Related stories
Most recent Sports stories