Estimated read time: 3-4 minutes
This archived news story is available only for your personal, non-commercial use. Information in the story may be outdated or superseded by additional information. Reading or replaying the story in its archived form does not constitute a republication of the story.
SALT LAKE CITY — Ambatana.
Speakers of Swahili know the word means "uniting people," and it is around that sentiment that Stefanie Shumaker has built the fledgling business she hopes to see one day uniting those who have given up everything not by choice, but out of necessity: refugees.
Some little girls dream of being princesses; others, of becoming president. Shumaker dreamed as a little girl of helping refugees, though, and it all started at the age of three, when her South Dakota community decided to sponsor five Ethiopian refugees, one of whom became like family.
Now, three decades later, Shumaker is trying to make her childhood dream become reality through Ambatana Threads, a Salt Lake City-based clothing and accessories business she is building around the idea that refugees — females specifically — have unique skill sets and creative ideas that can local businesses can utilize.
"When I came to Salt Lake City six years ago, I started befriending refugees and saw their struggles to find any work, but especially work utilizing the skills and educational background they brought to this country," Shumaker said.
One such refugee, from Kenya, told Shumaker one day over coffee that the woman wanted to start a business. She had studied finance in school and spoke perfect English, but could not find a job upon coming to the U.S. to seek asylum.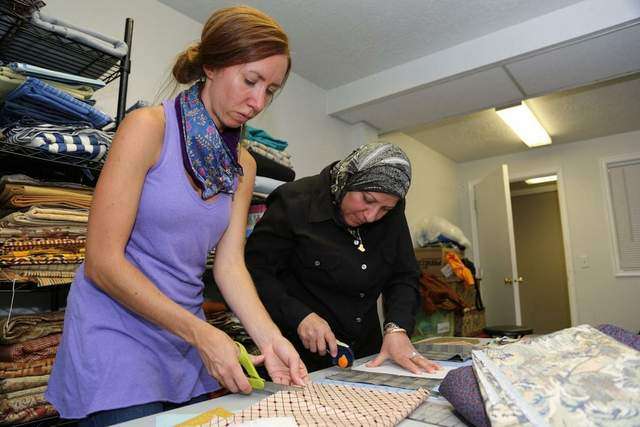 "I began to think, maybe I could help lead something," Shumaker said of the conversation.
Another refugee had fled Iraq with her husband after rebel factions raided the school he taught at in that country, leaving him disabled and her to find a job in their new country — something she had never before had the opportunity, let alone the responsibility, to do.
The two women, whose past lives are worlds apart, have their refugee status in common, and Shumaker said that is enough to unite them.
"This is the country where you're supposed to have opportunity, but so many refugees live in poverty," she said. "They come here and they have to get acclimated to their surroundings on top of finding a way to survive."
The tired, poor, huddled masses yearning to be free come to the country to escape poverty, oppression or violence, but often don't find a support system in place while they try to get back on their feet. More than 80,000 people were admitted to the U.S. in 2011 with refugee or asylum status, most of whom did not speak English. Some had family in the country; others did not. All entered the country seeking refuge, something Shumaker hopes to help with by providing opportunities for the refugees and asylum seekers to provide for themselves while doing work they can be proud of and uniting around their shared experience.
"I would love to see this grow to be a team of women from different countries all thriving, working with one another," Shumaker said. "It's a really cool thing to come together, knowing you come from shared difficulties."
The company does special orders through Facebook and sells some products through the Sugarhouse boutique Unhinged. Shumaker is currently trying to raise funds for fabric and an additional sewing machine.
For now, the business is housed in a 300-square-foot room in a downtown Salt Lake City building. Shumaker is hoping the operation will grow to have customers worldwide, all buying products created by women who gave up everything for a chance at a better life, but for now she relies on her two employees and a team of volunteers, all of whom she feels draw upon the meaning of "Ambatana."
"I love days when I have women and volunteers here," she said. "It's such a cool experience to know the business is bringing people together."
×
Photos
Related links
Most recent Utah stories