Estimated read time: 3-4 minutes
This archived news story is available only for your personal, non-commercial use. Information in the story may be outdated or superseded by additional information. Reading or replaying the story in its archived form does not constitute a republication of the story.
SALT LAKE CITY — The world of health and medicine can be confusing to many parents. But Nurse Suzy offers help to clarify some of the issues for you and your family.
This week's question:
My child was recently diagnosed with bronchial asthma. What does this mean and what do I need to do to keep her healthy?
Answer:
Did you know?
Between 100 and 150 million people around the globe — roughly the equivalent of the population of the Russian Federation — suffer from asthma, and this number is rising.
World-wide, deaths from this condition have reached over 180,000 annually.
In the United States, the number of asthmatics has leapt by over 60 percent since the early 1980s and deaths have doubled to 5,000 a year.
Source: World Health Organization
Bronchial asthma, a disease typically referred to simply as asthma, is an inflammatory disease of the airways. The inflammation causes episodes of wheezing, breathlessness, chest pressure and coughing, which seem to be worse during evening and night hours than in the daytime.
Most asthma sufferers find their symptoms are brought on by one of the following:
Hypersensitivity to inhaled allergens;
Reaction to a person's environmental stimuli or infection, typically viral;
A mixture of allergic reaction and reaction to intrinsic stimuli;
Aspirin, either by ingestion or use of items containing aspirin (such as Aspir cream);
Exercise or overexertion; or
Varying occupational situations, where airborne particles (such as paint fumes) are inhaled on work sites, at office buildings, etc.
The symptoms of bronchial asthma are easy to identify: episodes of coughing with no relief, wheezing, difficulty breathing, feeling chest tightness. In many cases, an asthma attack can be misinterpreted as a heart attack. In either case, you're dealing with an emergency situation and should seek medical help immediately.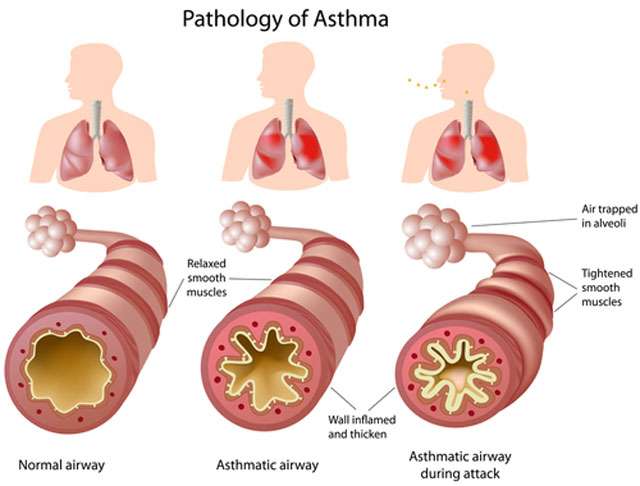 #asthma_chart
With small children, it's important look for the following symptoms:
Wheezing when breathing
A cough that is not calmed by normal measures or over-the-counter medication
Retraction in the child's chest when he or she breaths (when the ribs show and the sternum sinks as the child takes a breath)
Bluing of the lips and nail beds
Any emergency involving a compromised airway should be taken seriously. As a nurse, I have seen many asthma patients come to the hospital and go into respiratory arrest just outside the emergency room doors.
The situation becomes really hard for the medical professionals to treat when the patient quits breathing altogether. This is because the airways have then become so constricted it is hard for us to give the patient any air, no matter what we do.
Once at the hospital, the care team's first step will be to provide an airway support, give 100 percent oxygen, and consider anti-inflammatory medications. Other treatments consist of blood-gas testing, lab tests, breathing treatments using steroids, chest x-rays, and pulmonary function testing.
Ask Nurse Suzy

Do you have a question for Nurse Suzy, or maybe a topic you'd like her opinion on? Email her at nursesuzyksl@gmail.com.
Asthma is a very serious condition, and anyone who has been diagnosed with it needs to take it seriously and be on constant alert for triggers of the asthma. While the disease is not curable, it can be treated effectively.
Asthma patients should be in frequent contact with a pulmonologist for medical care and treatments. The goal is to allow the patient to live a normal life. The plan to follow should be simple as possible and individualized to the patient's lifestyle.
It's important to remember asthma is a family disease, not an individual disease. Your family and friends need to know about your condition so they will know how to respond when you experience an attack.
---
![](http://media.bonnint.net/slc/2495/249582/24958217\.JPG)

About the Author: Suzanne Carlile ---------------------------------

Suzanne Carlile, "Nurse Suzy," has been a nurse since 1982. Her main focus is critical care and nursing education. She holds a master's degree in nursing, is a Certified Emergency Nurse, and a member of NNSDO Intermountain West Chapter.

×
Related links
Related stories
Most recent Family stories