Estimated read time: 3-4 minutes
This archived news story is available only for your personal, non-commercial use. Information in the story may be outdated or superseded by additional information. Reading or replaying the story in its archived form does not constitute a republication of the story.
Team CoverageFor political science students, the Mitt Romney "Faith in America" speech was a hot topic. For evangelicals who remain skeptical of Mitt Romney's faith, this may or may not have cleared the air. Either way, it was history in the making.
In his speech Romney said, "No candidate should become the spokesman for his faith. For if he becomes president, he will need the prayers of the people of all faiths."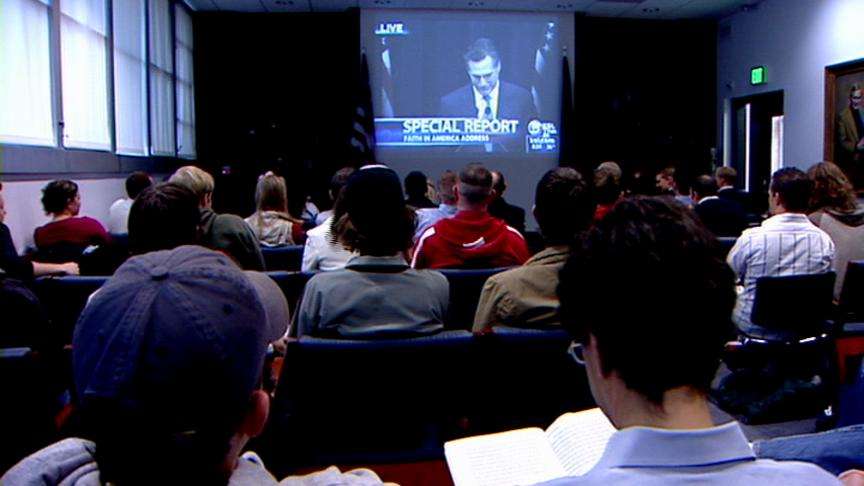 Audiences gathered on college campuses around Utah. The Hinckley Institute's caucus room at the University of Utah was filled with students, faculty and visitors ready to review the Romney speech.
Stanley Lloyd, a political science major at the University of Utah, said, "Religion is important to him and he's not going to sever all ties with it, but that one religion was not going to dictate his entire presidency, and I thought that that was exactly what the American people needed to hear."
Another student, Autumn Orme, said, "I thought he did a very good job and told the American people what they wanted to hear and what they needed to hear in order for him to stay in the race."
"I thought he did a good job of affirming the Christianity of the LDS Church with a lot of people, which a lot of people, especially in the south, the evangelicals don't," said student Chase Clyde.
Another student, A.J. Roby said, "I really thought he shouldn't have had to have done it because no one has to vindicate their religion to anyone, but just because the American public doesn't understand specific religions like Islam and other faiths, he has to mildly explain it which actually, he did very well."
Student Jennifer Morgan didn't think the speech will have much of an effect. She said, "As far as help or hurt, I'm not sure. I don't see that it could harmful, unless people just disagree with the faith itself."
Dayne Skinner was already a Romney supporter. He said, "I think it helped him a little. I think in the end it won't make a big difference, but I think it was a good call on his part."
The speech also got high marks from political science professors at University of Utah professor Tim Chambless and BYU professor Kelly Patterson. Chambless said, "The speech was a very effective speech. It was delivered very well." "I think he met the goals that he and his campaign need to meet," said Patterson. However, Westminster College political science professor Chuck Tripp questioned some of the content of the speech. Tripp said, "He mischaracterizes quotations from John Adams, for example." Tripp said Adams' quotes appeared more oriented toward an acceptance of religion in public life than they were intended.
Political observers in the audience say this speech was necessary, important, and aimed at voters far away from Texas. Political pollster Dan Jones said, "This talk will not only help him, maybe, with Iowa and with New Hampshire, then onto South Carolina and that's extremely important ... South Carolina."
Romney impressed the head of one evangelical group in South Carolina with talk of religious freedom and his careful wording of Christian differences. Oran Smith, president of the Palmetto Family Council, said, "If he'd come out today and said, 'I'm an evangelical just like you, I'm a Christian just like you,' I think that would have been very harmful, very harmful, and he did not do that."
Other Christians here in Utah say Romney may have found some common ground with his words on faith and liberty. Rev. Mike Imperiale, pastor of the First Presbyterian Church, said, "I think our culture is in danger right now in the restraint of religion rather than religious freedom, so to that degree, I think his speech was very helpful."
Of course, the reaction that really counts is from voters in those early primary states.
×
Related links
Most recent Utah stories