Estimated read time: 5-6 minutes
This archived news story is available only for your personal, non-commercial use. Information in the story may be outdated or superseded by additional information. Reading or replaying the story in its archived form does not constitute a republication of the story.
SALT LAKE CITY — Winter is coming — with all of its delights: snowmobiles, snowmen and shimmering white trees. Then there's the evil side of winter: gray days, slush, bad roads and screaming kids in the house.
Winter can be fun if you're prepared; miserable if you're not. Preparation means more than just coats, boots and snow shovels — it means getting your home ready for cold weather as well. One of the most important pre-winter tasks involves maintaining your roof drainage system — and to do it before things get ugly.
The $10/$10,000 rule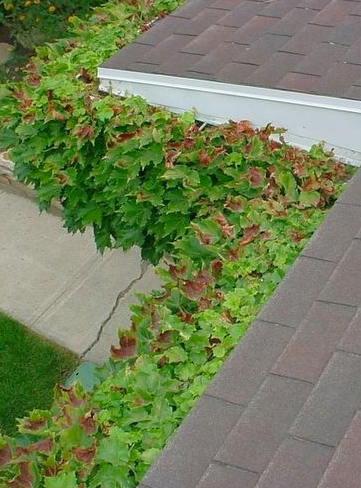 Good home inspectors recognize a common theme: When a homeowner does the right task at the right time, costs are generally on the low side. When problems are ignored, costs go up — way up. It's called the $10/$10,000 rule, and it applies to your home's drainage system as well as anything. Cleaning out your gutters before snow flies isn't expensive — it might involve the purchase of a scoop or a hose — a manageable expense. On the other hand, if you let things go and your gutter falls like a 500-pound anvil — well, that's priceless. Even more so if it falls on someone.
In the workplace, no employer would ever allow employees to walk under a lightly supported 500-pound weight. That can be exactly what happens at home every day. If your gutter system can't drain, your gutters become the world's largest ice cube tray. At roughly 10 pounds of water and soil per foot of gutter, they get heavy. They get clogged.
The first victim will be the eaves. After that, water drops straight down at a low spot or joint — where your window wells may become a pool of icy winter goodness. When it melts, you have a free swimming pool in your basement, complete with fresh colonies of molds, mushrooms and termites. But wait! There's more. When conditions are at their worst, the whole rain gutter system can fall. Don't be under your gutters when that happens.
Mold & mosquito marmalade
Or let's assume that your gutters are clogged but never fall. These are now collecting mosquitos in the summer and dropping water right next to your foundation all winter long. Despite hopes to the contrary, even tarred foundations are not waterproof, and concrete cracks. Water on the outside of the foundation means water inside the home. Mold, rot and termites will then become your next set of house guests — but like some other house guests, they don't leave until you get out the poison.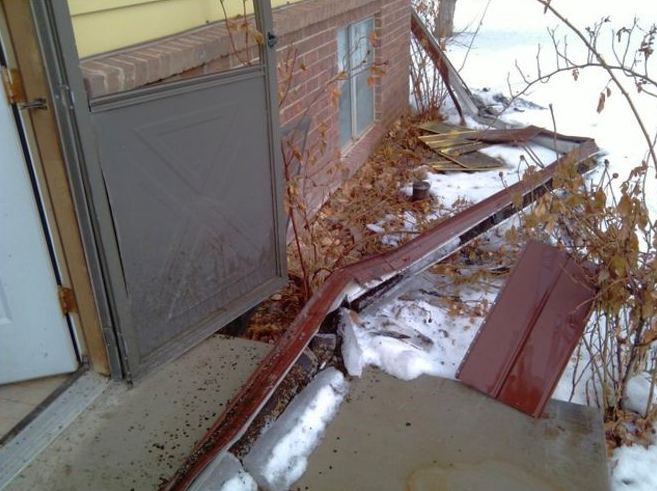 If you relish the thought of sharing your home with mold and termites, no need for action. If you figure your family has one or two extra children anyway, then you're good: spare yourself the time on the gutters. Maybe you can use that time to catch up on the Kardashians. On the other hand, if you prefer to be more selective about who and what lives in your home, you have a honey-do. No worries — it's easy.
Clean the gutters
Got a good ladder? Check out your rain gutters. If you can see the bottom of the gutter, life is good: your date with a Kardashian episode is getting closer. If not, consider a scoop or screens. A scoop cleans the leaves out, and the screens keep them out. Screens don't completely eliminate all maintenance, but they do make it much easier.
If your ladder is less than excellent, one method to check your gutters is to go outside during the rain and take a look. If there is little water discharging from the spout, or if water is flowing over the gutter edges, you have work to do — and a ladder to buy.
Don't be hesitant to replace damaged older rain gutters with newer ones. PVC gutters have gained popularity because of their durability, as have seamless gutters.
Clear the downspouts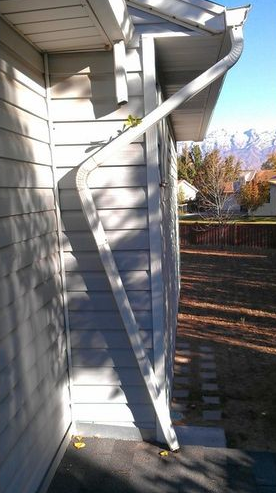 If your gutters look clean, you're halfway there. Your next task is make sure runoff drains away from the home. Downspouts can be clogged with almost anything: nests, dirt, twigs, tennis balls, or little Sally's favorite doll from three years ago — it's all in there. You can use a hose to get your drain flowing freely. When the hose method isn't enough, you may find that it's easier to take the screws off and clean each section out individually. Wear good gloves though — it's dirty work with sharp edges, and you'll probably need all 10 of your fingers at some point in the future.
Safety
Needless to say, the combination of hoses, houses, height and hands can create some dicey circumstances. Make sure that you use quality tools. Tie the hose to the gutters so you can have both hands free. Hose clips may include zip ties, clips or another solution of your choice. Make sure your ladder is stable, and avoid skirmishes between your ladder and power lines. Work gloves and safety glasses are also a good idea. Keep your eyes protected — you'll need those again too.
If you're a home inspector, few things are as pretty as walking outside in a rain storm and watching the downspouts flow water like a fire hose. If you're not that twisted, just make sure they work — then you can watch the Kardashians in peace all winter long.
Garth Haslem is a structural engineer, home inspector, author. Titles include "Household Hazards Handbook & Home Maintenanance Guide." www.homemedic.tv and crossroadsengineers.com Follow "Garth Haslem—the Home Medic" on Facebook, Twitter & Pinteres
×
Photos
Related links
Related stories